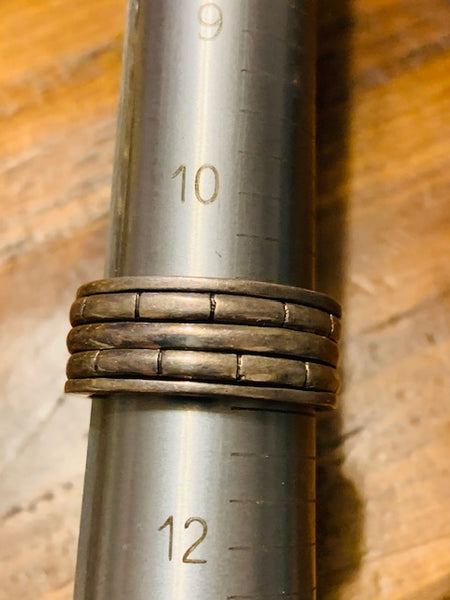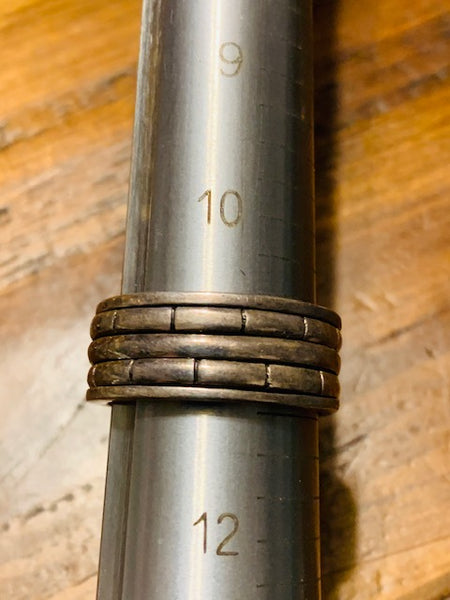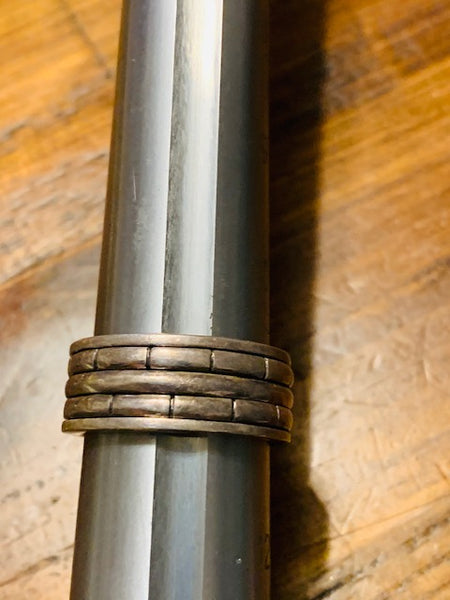 Removal of the Illusory, Sethian Gnostic Transcendence
7-24-20
The piece that you are receiving is a fairly heavy, sterling silver ring, size 11.
We have conveyed the notion that I am about to expand upon many times before.  This piece embodies an ancient magic that will bring forth the ability to really do anything about it.  You see, too many people today just accept the hand that was dealt to them and refuse to do anything about it.  This is due to complacency and lack of knowledge.  The shadow governments of the world will have you believe that hard work and determination will eventually pay off.  Maybe for some, it will pay off minimally, but you will never truly be the ones in the limelight.  You will never truly be the 1% that rules the world with money and magic.  That is because they have devised a plan to maintain the wealth and influence that they have over you and the entire world.  In order to make any changes to your life, you need to understand what life is.  
Enter ancient Gnostic truths.  These truths were ones that were discovered by the ancient Gnostic practitioners and magicians.  Specifically, this piece holds the magic of an ancient sect of magicians called the Sethians.  They knew what other people didn't know-- that Seth was actually a divine incarnation into whom many ancient forms of knowledge were born.  There is more to his story than what you will find in the Bible and the reason that it has been kept out is that the Church hid the truth.  They didn't want people to have that kind of power and influence.  They wanted to be able to control all aspects of existence and this is evident in the fact that they make a very large portion of the New World Order.  When God stopped granting Christians the things they wanted because their values were compromised with sin and iniquity, they turned to dark antics.  When God said no, Satan said yes.  That's why they hid the knowledge of Seth, to keep people from overpowering and out-influencing them.  
The Setiahs maintain a system of duality where the spirit is the only true reality and that matter and every other physical thing is illusory.  The magic that was buried deep within Seth when he was incarnate was an arcane form of magic that allows humanity to manifest those things that they want without the need for God to do it for them.  Unfortunately for the Church, who has kept this magic under wraps, they have never been able to fully develop this magic into something that they can use and this is because in order to do so you have to part of the Sethian bloodline.  I don't mean the bloodline of Jesus, either.  Logically Seth passed on that bloodline to those beneath him because Jesus comes from the bloodline of Adam.  Rather, I'm talking about a synthetic and divine bloodlines give to those who hold the truth.  This is what is called the Sethian bloodline.  It was only given to Sethian Acolytes who partook in the veneration of this knowledge.  
The Knowledge is the ability to experience a Transcendence that will set apart the spiritual from the physical.  You will be able to separate the illusory components of your reality to exist only in the spiritual.  In that form, you will be able to manifest things into the illusory part of your existence.  In short, this means you will be able to manifest the things that you want into the physical realms by willing them into existence while you are in your spiritual form.  It is the creation of your own reality where you can grant the things you want to yourself as you see fit.  You can create your own life path that you will follow and experience in your illusory form and if at any time you find this path to be less than satisfactory, you can simply use that magic in this piece to transcend into your spirit and manifest a new reality that you find to be more appealing to your preferences.  
I got ahead of myself there a bit.  You are getting this piece and it holds the Sethian magic that will allow you to transcend.  This piece is solid sterling silver and very unique.  That is because it is a modern-day Sethian device that brings the Acolytes their connection to the ancient.  This is the connection that this piece will also give you.  When you use this piece to transcend you will be able to do exactly as I've described above.  There is nothing that is off-limits with this piece, save for the fact that you cannot use it to change the balance of life.  This means no healing of terminal illnesses and disease.  This means no immortality.  Lastly, it means you can't use the piece to kill anyone.  Other than that, game on!  This is an envisioning piece, so in order to create your own life path, you will simply envision it while in your spirit form.  To get to your spirit form, simply meditate with this piece and allow your spirit to leave your body and transcend, leaving the illusory behind.  If you need to, you can light some relaxing incense to induce meditation; or try essential oils.  I find those to work quite well.