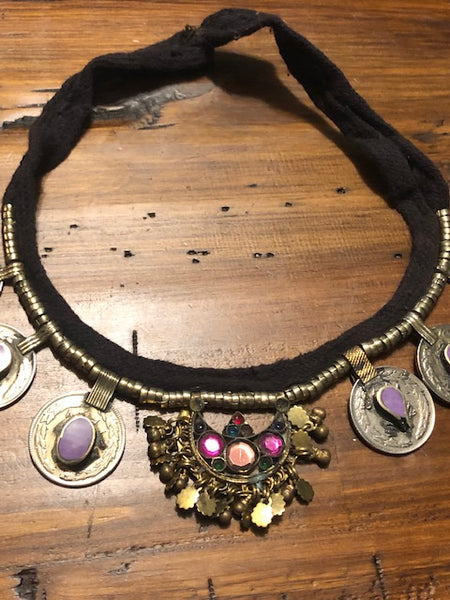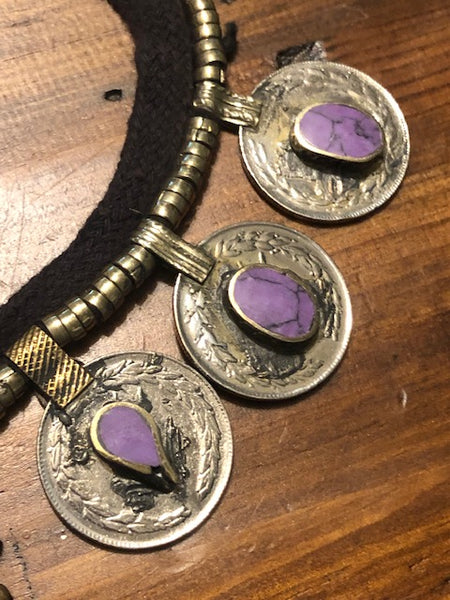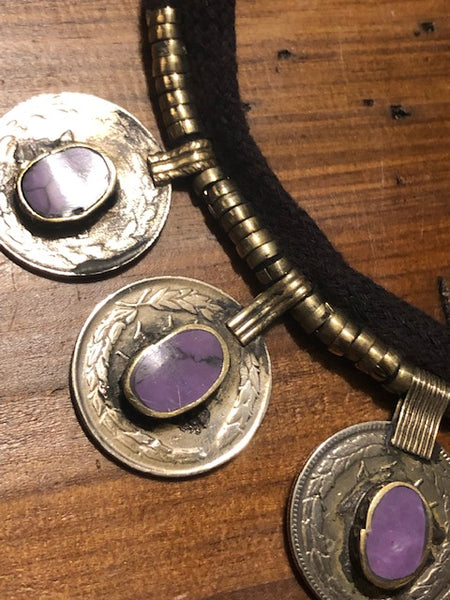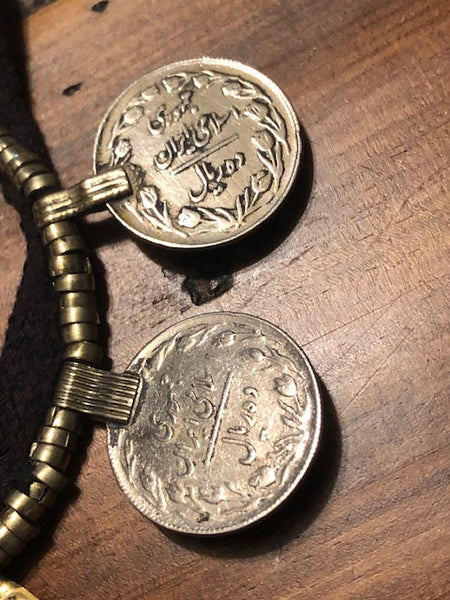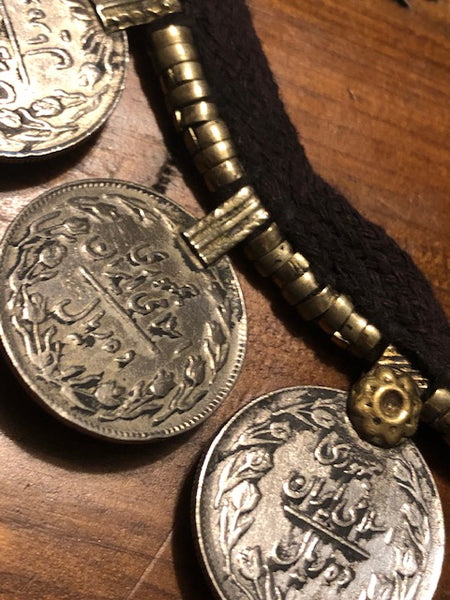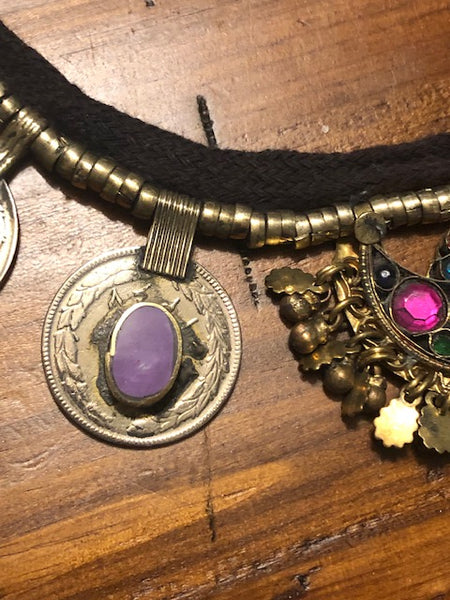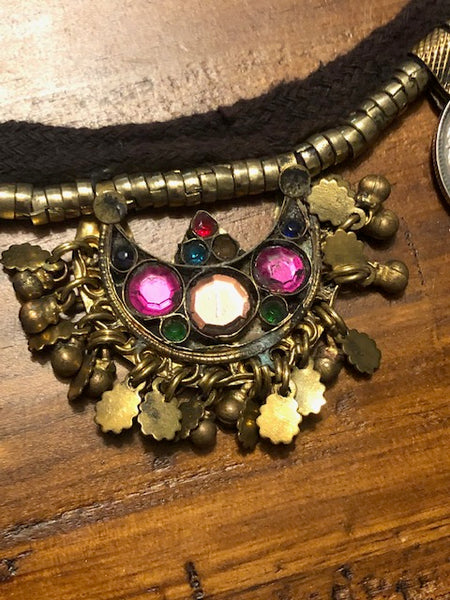 Romani Eye and the Djinn of Destined Way-- PICK YOUR (3) DJINN!! Authentic Gypsy Necklace #1
BACK BY POPULAR DEMAND ARE THESE AUTHENTIC GYPSY NECKLACES. AFTER WE HAD GREAT SUCCESS WITH THE OTHER ONES WE SOLD, WE DECIDED TO REACH OUT TO THE ROMANI EYE IN HELPING MAKE MORE. KEEP IN MIND, WE DID OFFER THIS ON AUCTION AND IT SOLD FOR $250.00 TO THE HIGHEST BIDDER. WE ALSO HAD ONES THAT WE SOLD IN PRIVATE SALES IN OTHER SECRET LEGIONS THAT WE SELL IN THAT WENT FOR WAY HIGHER THAN THAT. WHILE WE WILL BE SELLING THESE GYPSY NECKLACES ONCE AGAIN, WE WANT TO KEEP IT FAIR FOR THOSE WHO HAVE ALREADY BOUGHT THEM. SO-- WE HAVE DROPPED THE PRICE ON THESE NECKLACES, BUT YOU WILL ONLY GET TO CHOOSE 3 OF THE 6 DJINN THAT ARE LISTED. WHEN YOU PLACE THE ORDER FOR YOUR PIECE, YOU WILL EMAIL EITHER DEEDEE OR MYSELF (STEVE) AND LET US KNOW WHICH OF THE THREE DJINN YOU WANT US TO PLACE INTO YOUR NECKLACE FOR YOU. THE PRICE FOR THESE NECKLACES IS GOING TO BE $170.00. IF YOU NEED TO REMIND YOURSELF WHAT THESE NECKLACES AND THESE DJINN WILL DO FOR YOU, READ BELOW.
The piece that is being offered is a real gypsy piece and it is very old.  It was made by a group of gypsies that are kind of castaways. Most gypsies throughout history, the Romani people to be more specific, have been kind of wandering castaways, but this particular group wasn't even accepted by their own gypsy kind.  It is because they had a quirky way to them and their magic is just as quirky as they are. Having said that, their magic is very powerful and that it made the other of their kind just a bit jealous. This is probably also why this group was the black sheep of the gypsy family. 
It turns out that they all share a common bloodline and lineage.  This is a blood type that has never before been documented and hasn't been documented outside of this group of breakaway gypsies.  You would think that being such a mysterious set of circumstances that some government somewhere would have tried to capture them to take for studying and experimentation.  The truth of the matter is that many governments and independent agencies alike have attempted to either steal their blood or take them as prisoners, but their magic is so powerful that they have managed to stay elusive.  This is in part due to the fact that their bloodline is so powerful due to the fact that they are not merely human gypsies, but they are actually djinn-gypsy hybrids. This why their blood type is rare. They are more human than they are djinn, but their blood is cross-contaminated with the essence of djinn.  
The only real explanation for this is that a djinn either took the form of a mortal or was in possession of a mortal body while copulating with a gypsy mortal.  The result has been a very rare and extremely powerful blood type that infuses the existence of mortality with being a djinn. It gives this group the ability to maintain their magic and why it comes so naturally and freely to the group.  The group-- both male and female gypsies-- has banded together, practicing their magic in private and has really become a force to be reckoned with. They call themselves the Romani Eye.
The Romani Eye has a natural connection to an ancient grouping of six djinns that are the predecessors to their power.  These djinns are their natural ancestors and their presence abides within each of the Romani Eye gypsies. This is how the Romani Eye was able to make the piece that we are offering.  They conjure the djinn from within themselves. They do not have to conjure them from the realms. They are called the Djinn of Destined Way and they have been around since the conception of Earth when God created land to divide the waters.  They are not constituents of God's rule but they are independent creatures that are much older than the Earth or our galaxy itself. They were allowed to stay on Earth after they arrived, simply due to the powers that they have to offer mortal beings.  The condition is that each time a mortal summons them they must grant what the mortal asks for.  
Again, this piece is an authentic Gypsy piece.    It has been created by the Romani Eye as a piece that will put anybody into contact with the Djinns of Destined Way.  The coins are extremely powerful and hold the offering that is given to the Djinns in order to summon them and to call upon their presence.  The stones that are fashioned to the coins are the drops of universal power into which each of the djinns have been set. Finally, the pyramid-shaped piece with the smaller pyramid inside of it is the House of Djinn.  It is created in the likeness of a Pyramid because for the longest time that is where these djinns lived. They lived in a pyramid in the center of the Earth, where they thrived in power. They almost got through not having the share their power with anyone, because they managed to create a temple for themselves that was close enough to human existence without having to bothered by them.  Long story short, one of the djinn fell in love with a mortal girl. She gave birth and this began the whole process by which the Romani Eye became a whit.  
In this enter piece, the knowledge of all Djinn magic and All Romani magic has been placed.  This is a spark of knowledge that will transform your DNA. You will no change your outward appearance or even in your genetic makeup.  However, the power in the House of Djinn will give you a cellular memory awakening. This cellular memory is that of the djinn and it gives you the knowledge to be able to create the magic that you want.  This can be any kind of magic because these djinns are not bound in what they can do and the knowledge encompasses the entirety of the universe, not just the galaxy that we live in. When you request your magic, it will be born inherently inside of your being and you will be able to manifest it forth simply by calling it out.  
With this piece, you also gain a connection to each of the six Djinns of Destined Way.  Remember, these djinns are summoned forth by the coin offering and the stone in which they reside.  Here is the list of the Djinn of Destined Way.  
Djinn of Providence.  This is the Djinn who watches over you and keeps you away from danger.  He will come to you the first time and deep clean your life of any evil, dark and/or residual negative energies.  He will stick around to make sure that evil and darkness never enter your life again. This djinn creates a shield that will wrap itself around you and protect you from all that wishes to cause you pain, suffering, harm, sorrow, or any other type of affliction. 
Djinn of Measures.  This djinn is the Djinn that brings that grants and assures wealth.  You will gain a connection to this djinn that will allow you to tell him the financial needs and woes that are in your life and he will bring you wealth enough to fix all those problems.  He will also grant you additional wealth that will come at you from sides, angles, roads, possibilities, etc. This wealth will accumulate over your lifetime and you will have more than enough left over to pass on to your descendants.  
Djinn of Wills.  This djinn is a very powerful djinn because he allows you to animate your own will and desires. This means that when you conjure the Djinn of Wills you are able to manifest your own will into your life.  This will overwrite any destiny that has previously been yours. It will allow you to become what you want to become and to live the life that you want to live-- whatever that might be. Want fame? You got it.  Want to own a successful business? You got it. Whatever the case may be, this djinn allows you to manifest your own will so you can live your best life.  
Djinn of Fascination.  This djinn is a djinn of relationships.  It will help you find the love of your life-- your twin flame-- so that way you will always be surrounded by the loving, nurturing partner that you need.  If you already have one, it will strengthen that relationship and will help you to grow and flourish within it. However, this djinn doesn't just help romantic relationships.  He also helps initiate and mend other types of relationships such as those between two siblings, two cousins, mother and daughter, two friends, etc. Whatever type of relationship you are seeking with another person, the djinn strikes balance and harmony to the exchange and allows that relationship to flourish.  
Djinn of Ages.  This is the Djinn who is the recorder of time.  He holds all the knowledge of everything that happens around him.  It's not that he was selected to record time on Earth, his ability just naturally allows him to create a imprint of life.  It's like a carbon copy of exactly what has transpired. When summoned he will come to you and allow you to experience any place and time in the history of Earth that you would like to experience.  Notice that I didn't say you will actually travel there. This djinn specializes in sensual recreation. This means that he will literally wrap himself around your body and use his ability and the knowledge he owns to recreate whatever point in time you desire to experience.  You will touch, taste, feel, hear, and see whatever you desire to. If there is power and/or magic, you will also be able to experience it firsthand, duplicate it within yourself, and manifest it into your mortal life.  
Djinn of the Everlasting.  This djinn will grand you mortal agelessness  I'm not going to say that this piece will grant you immortality because we cannot guarantee that it does.  What we can guarantee is that this piece will slow down the aging process. If you are older, this piece will reverse the aging process.  It will give you beauty or make you handsome. It will take away the aches and pains of aging. It will refresh both your soul and your physical body.  Your face will look younger. Your hair will look healthier. You will feel younger. It will be as though you have drunk the elixir of life from the fountain of youth.   It will also give you copious amounts of energy and vitality with which you can do what you want to.