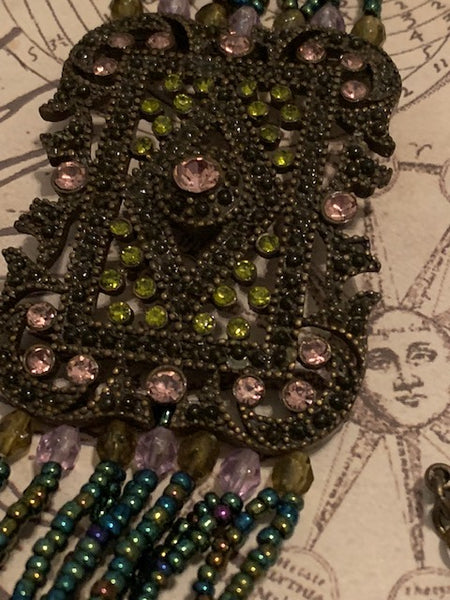 Royal Wealth Griffin
SOME OF THE ITEMS THAT WE SELL ARE MISSING STONES, HAVE SCRATCHES, ETC. THIS ISN'T EVERY PIECE. IN FACT, IT IS VERY FEW PIECES. IF THIS IS THE CASE IT IS BECAUSE WE GOT THEM THAT WAY, BECAUSE THEY ARE OLD, OR BECAUSE THEY HAVE A LITTLE BIT OF WEAR DUE TO TESTING. WE HAVE TO HANDLE AND TEST ALL THE PIECES THAT WE SELL TO MAKE SURE THAT THEY WORK PROPERLY AS PER THE DESCRIPTION. MANY OF THE ITEMS WE OFFER ARE VERY OLD, ARE ANTIQUE, ETC. SOME OF THE ITEMS REFLECT THAT WEAR. THIS DOES NOT MEAN THAT YOUR ITEM IS LESS POWERFUL OR WILL NOT WORK WHEN YOU GET IT MAILED TO YOU. THESE PIECES ARE FEW AND FAR BETWEEN ANYWAY. WE JUST WANTED ALL BUYERS TO BE AWARE OF THIS BEFORE THEY PURCHASE.

Also, Before making a purchase, please make sure you read and are familiar with our shipping policy: https://youtu.be/y8uA4M7ijVk

This piece was made during a ceremony of the royals, but it was one where only the royal family of England was invited. There a lot of them nowadays that the royal family will send out invites to and people of stature and fame are allowed to attend. This is mostly because most countries don't have royalty anymore. However, there are some rituals that only the royals are allowed to present for. I'm not sure what else went down during the culmination of magic, but this piece was one of the byproducts. We got this piece because it was taken from their collection from somebody close to the family. You know what they say-- keep your friends close and your enemies closer. Apparently they have a lot of enemies, those Royals. No matter, this is our gain. This piece conjures a griffin. This is a wealth griffin and sadly it does not manifest in in physical form. Instead, this is a spiritual griffin only, but it is a wwealth griffin and it will reign wealth down upon your life. This is not a targeted or specific kind of wealth. It's just wealth in general-- and trust me, it is a lot of wealth. I mean, how do you think the royal family maintains their wealth? They don't really DO anything. Yeah, they have power and influence, but they need to maintain their somehow. It's through magic and this piece is an example of what that magic is and what it can do for you. It holds the powers to transform your life in ways you wouldn't believe. After all, money makes the world go 'round!