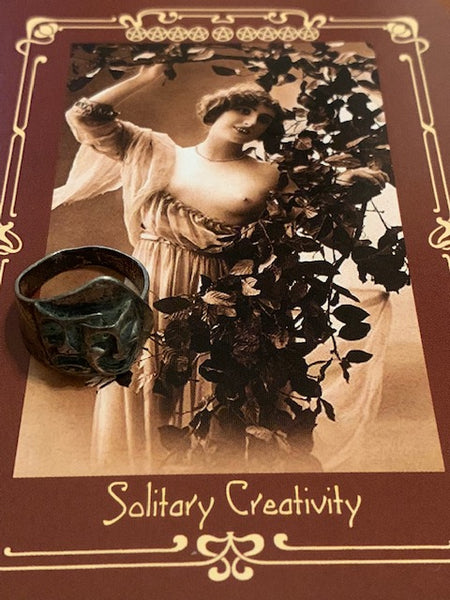 SAG Special-- Become Your Own Celebrity!
Before buying, please be sure that you view and are aware of our Shipping Policy-- https://youtu.be/y8uA4M7ijVk

Okay, so this is a piece that has officially been issued by the Screen Actor's Guild. They will never admit to it because they would rather die before they admit that they have turned to magic in order to help them succeed. I don't mean the guild personally, I mean the actors that have joined the guild. They say that the only thing that you have to do in order to join the guild is to appear on television or a movie. In fact, all you really have to do is pay them the right price and you will be pretty much set for life. Here's the thing SAG (as it is called) has been developing pieces like this for ages. This one alone has seen the hands of over a dozen high profile actors, actresses, artists, music artists, etc. The idea is that SAg sells them the piece that holds magic to allow them to become famous and talented and then when they do, they give the piece back to SAG so they can sell it again. Not to mention, the fees and dues that are involved with being a part of SAG. It's just another money-making machine and if you have to ask who is behind it, you should do some research. It is the Illuminati of course! They control everything, so being the ones who develop the talent and control the money that these people pay to get the talent is only part of their lucrative business of controlling everything Hollywood.

What we have is one of the original pieces that was designed and sold by SAG. As I have said, this piece has seen the hands and has created the success of over a dozen, probably dozens, of Hollywood celebrities and other artists who have used their talent and/or ability to become rich and famous. When you wear this piece, you will be able to do the same. It doesn't matter whether you want to be on the big screen, the silver screen, become a recording artist or paint the next Starry Night. I know that it's called SAG, but their operations extend well beyond actors, despite what they will tell you. All you have to to do is wear the piece, either as a ring or as a pendant on a chain and the talents you want will come to you and you will become both famous and extremely rich doing what you love. The best part? We don't charge nearly as much as what they would charge for a piece like this. We also don't make you give it back. It's yours to keep or to do whatever with. Happy trails!
This piece is unique-looking.  It is made entirely of sterling and depicts the comedy and tragedy masks, commonly referred to as laugh now, cry later-- but there will be NO crying with the powers in this piece.