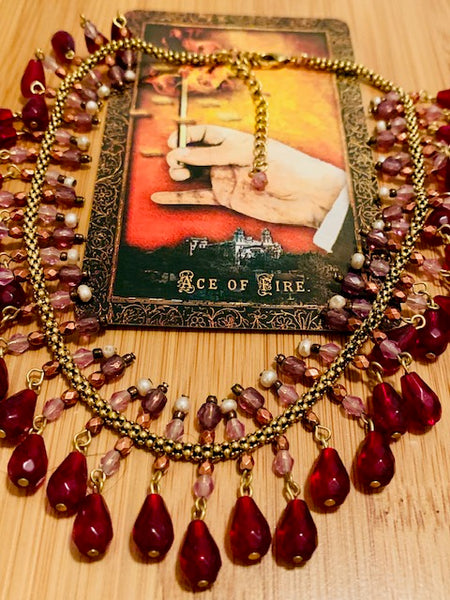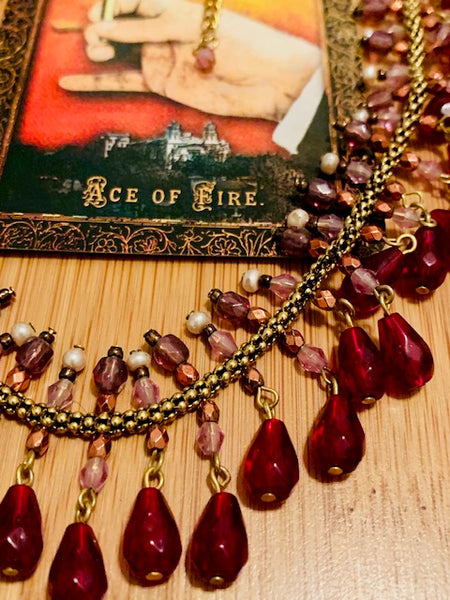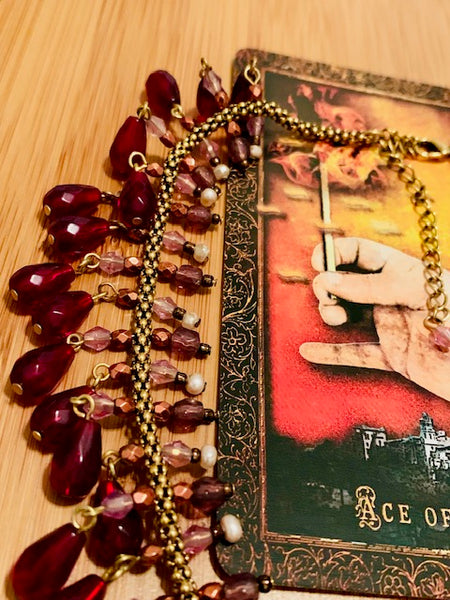 Sanguine Blood Crystals
CARNIVAL ITEMS ($38.00) ARE NEVER OUT OF STOCK. IF IT IS SHOWING UP OUT OF STOCK AND IT IS AN ITEM THAT YOU WOULD LIKE, PLEASE SEND AN EMAIL AND WE WILL GET YOU A REPLACEMENT. THE REPLACEMENT WILL NOT LOOK EXACTLY LIKE THE PIECE SHOWN ON THE WEBSITE, BUT IT WILL FUNCTION AND WORK THE EXACT SAME. DON'T GO WITHOUT! WE CAN GET YOU A NEW ONE!

The Vampire Farm is a crazy place, but nonetheless, it is a place that often offers us very powerful magic. This piece is no exclusion. This piece has come from the Vampire farm. The jewels that you see on this beauty are called Sanguine Blood Crystals. They do not contain any vampire blood, but they have spent a total of 90 days soaking in the blood of a sanguine vampire before they are put into whatever jewelry they are being offered as. In this case, it is this lovely necklace. Sometimes there are rings. Other time bracelets or pins. This piece holds the energies of a sanguine vampire and will allow you to take up many of the abilities of a sanguine vampire. This includes psychic powers, the ability to control minds, the ability to hypnotize, the ability to walk astrally in the sanguine realms, etc. As with all the pieces that have come from the Vampire Farm, this piece is very powerful and the abilities shouldn't take too long to come to you.