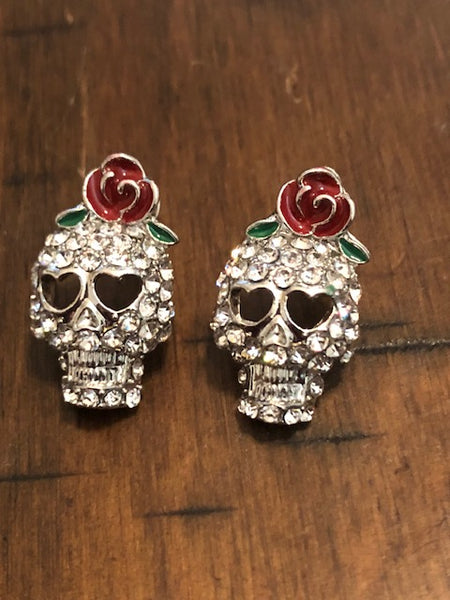 Santa Muerte: The Sacred Baptism of Life By Death
PLEASE BE SURE TO VIEW OUR UPDATED SHIPPING POLICY. IF YOU CHOOSE NOT TO, WE ARE NOT RESPONSIBLE FOR ANY RESULTING DIFFICULTIES OR INCONVENIENCES.

https://youtu.be/y8uA4M7ijVk
So, I found an old statue of Santa Muerte at an antique store not so long ago.  I was never intending for it to give me any type of magic.  I didn't even feel a psychic pull towards it.  I just really like Santa Muerte and the whole culture surrounding her, so I bought it to use as a decoration at my house. 
I put the statue on a corner shelf in my bedroom and I'd say about five days in I began having the craziest dreams.  Some of them I cannot remember, but there is one that I remember very vividly.  I was walking along this path by a river.  I came across a woman bathing in a river, so I quick turned to walk away.  Awkward, right?Who even bathes in a river anymore?  However, before I could get to far, she began calling out to me by name and told me to join her.  Not that it made sense, but it was a dream and I wasn't in control, but I joined her.  
After what seemed like an eternity but was probably more like 30 seconds, she informed me that I had received the sacred baptism of life by death and that my life was at a cross roads.  The sky opened up and there were thousands of different futures that all involved me that I was able to choose from.   She told me that she was able to cause a new life for me through the death of my old one.  I was about to choose a lifepath, but then I woke up. 
The following morning I noticed these earrings by the Santa Muerte statue.  I tested these pieces and the results were astounding.  When you wear this piece, Santa Muerte will visit you sleep.  She will give you the sacred baptism of life by death.  She will allow you create your own future and to put into it whatever you want.  It makes perfect sense, because Santa Muerte by definition is the guide who leads people from death to the afterlife.  So may people think she is a bad omen, but she is actually the opposite.  She is a holy guide of sacred paths and this is the magic that she will bestow upon you.  Ask her for anything and she will guide your path to include it.