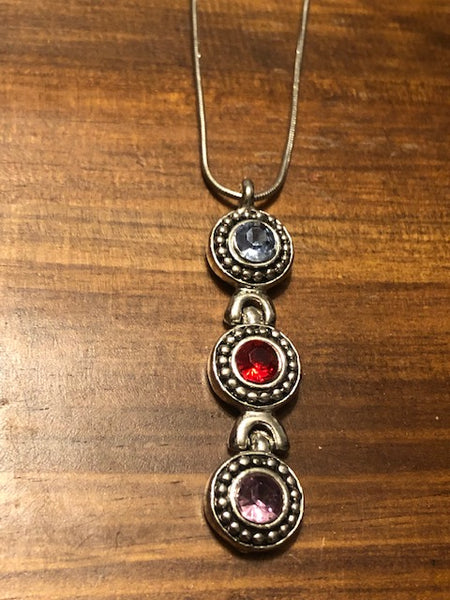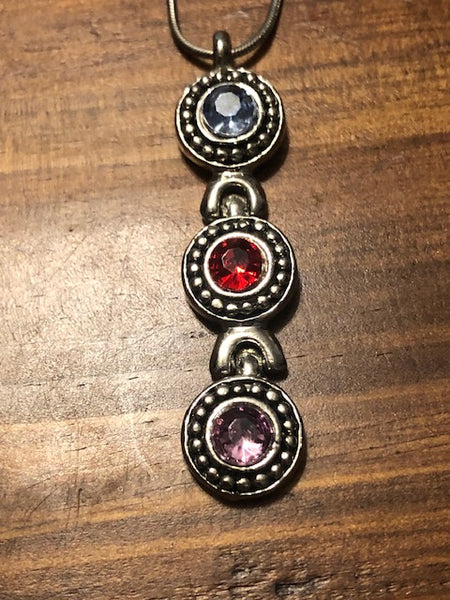 Silver-tone Metaphysical Necklace, Gemstones, Long Live the Inkarri
In the year 1533, the Incan King Atahualpa was ordered to be strangled to death by a garrot.  His short one year reign was mourned by his subjects in whos reminds Atahualpa became not only a martyr but a legend.  In those times the magic that was performed by the Inca was very powerful because it was given to them by ancient messengers who appeared to them from the sky.  This is why the civilization was so into the sun, stars, and other celestial objects.  
A small group was formed, which to this day remains nameless.  They were able to use their magic to resurrect the soul of the deceased king.  The soul of the kind was set into the body of a mortal who was prepared specifically for the king to own that body.  It was in this body the king would live until the next generation was born and a new body was prepared for him.  This manifestation of the king was called the Inkarri.  This way, the king was able to pass down his magic and his traditions.  
This ritual continued until the Inca Civilization came to an end.  However, the magic that is required to summon this king still exists and this is what we are offering with this piece.  This piece holds ancient Inca magic that will allow you to summon forth Atahualpa to share your body with you.  Unlike in ancient times, the king will not wholly possess your body.  Rather, the king will simply share your body with you.  You will remain conscious and in control and he will once again be able to return to the mortal realms.  
Atahualpa will instill within you an ancient knowledge and understanding of magic.  This magic is universal magic.  With the help of Atahualpa, you will be able to use this magic to accomplish anything that you want to accomplish.  This includes the creation of magic, ascendance, the performing of rituals, the gathering of magic from celestial places, the birthing of entities, changing the future, etc.

Instructions:  This piece is a meditation piece.  You will meditate with it and invite Atahualpa to share your body.  He will arrive and live inside your mind.  You control him, not the other way around.  He will help you and guide you in your endeavors via a telepathic connection that will allow him to hear your thoughts and vice versa.  
THE ITEM YOU ARE PURCHASING IS A HIGHLY METAPHYSICAL AND MAGICALLY CHARGED PIECE OF HAUNTED JEWELRY.  IT IS A SILVER-TONE NECKLACE WITH GEMSTONES.