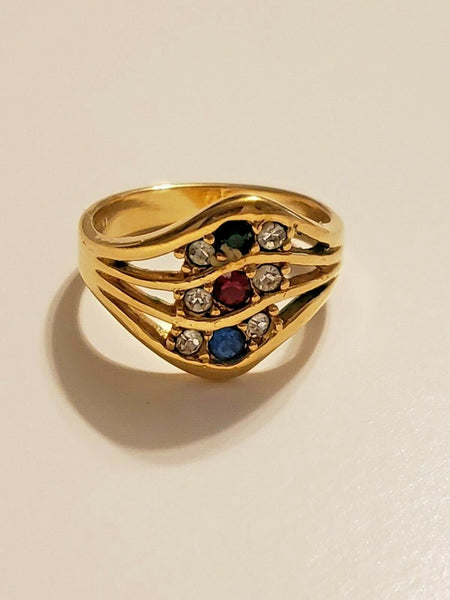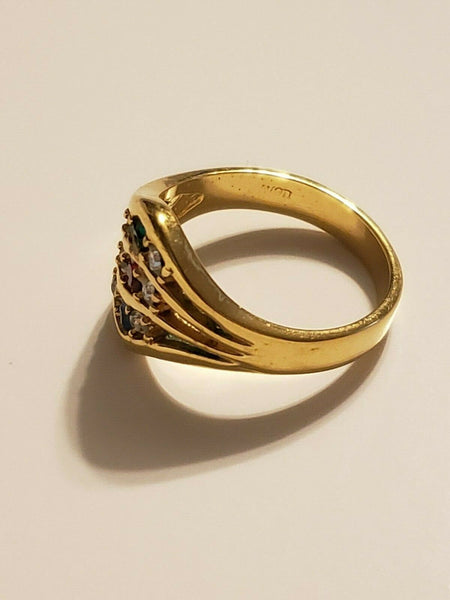 Size 8 Gold-tone Ring with Red, Blue, Gree, and Clear Stones: Powerful White Light Angelic Summoner
This piece is an angelic summoner that summons three classes of angels.  These three classes are blue cherubim, green cherubim, and red cherubim.  This piece is spiritually connected to one of each of these types of angels.  These are special classes of angels who are tinted different colors by God because they hold different classes of powers.  God doesn't color every angel, but these angels are held in reserve specifically to preserve these three types of magic.  These types of magic are  as follows:
the clear stone-- angelic psychic intuition/the ability to communicate with angels
the red stone-- bleeding blood of Christ, which allows you to seek the wisdom of Jesus and obtain it.  
the green stone-- which grants angelic and godly abundance in all areas of your life
Instructions, simply meditate with this piece and allow your thought forms to communicate with this piece so they can grant you whatever it is that you want.