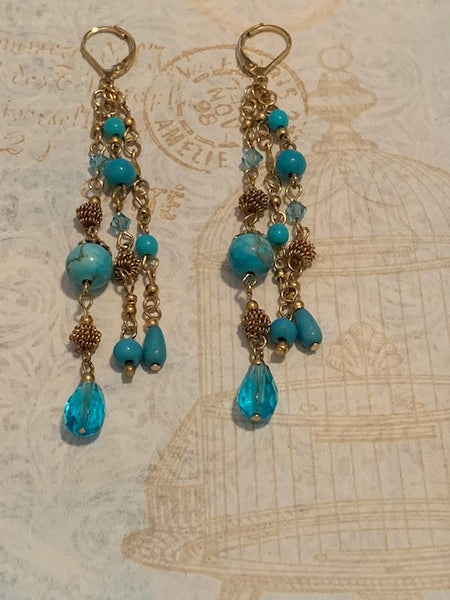 Song of the Siren
SOME OF THE ITEMS THAT WE SELL ARE MISSING STONES, HAVE SCRATCHES, ETC. THIS ISN'T EVERY PIECE. IN FACT, IT IS VERY FEW PIECES. IF THIS IS THE CASE IT IS BECAUSE WE GOT THEM THAT WAY, BECAUSE THEY ARE OLD, OR BECAUSE THEY HAVE A LITTLE BIT OF WEAR DUE TO TESTING. WE HAVE TO HANDLE AND TEST ALL THE PIECES THAT WE SELL TO MAKE SURE THAT THEY WORK PROPERLY AS PER THE DESCRIPTION. MANY OF THE ITEMS WE OFFER ARE VERY OLD, ARE ANTIQUE, ETC. SOME OF THE ITEMS REFLECT THAT WEAR. THIS DOES NOT MEAN THAT YOUR ITEM IS LESS POWERFUL OR WILL NOT WORK WHEN YOU GET IT MAILED TO YOU. THESE PIECES ARE FEW AND FAR BETWEEN ANYWAY. WE JUST WANTED ALL BUYERS TO BE AWARE OF THIS BEFORE THEY PURCHASE.

Also, Before making a purchase, please make sure you read and are familiar with our shipping policy: https://youtu.be/y8uA4M7ijVk

Our Siren pieces were so popular that we decided to create another one. This one holds the spirit of an ancient Siren named Themidora. She is not one of the elder Sirens, but she is toward the top in age. She has been in existence for thousands of years and when we summoned her, we actually plucked her soul from one of the islands that she existed on in her mortal body form. She chose to leave that body years ago. I guess she felt freer in the form of a soul. Either way, she brings with her the ability to have your voice heard as a siren. What does that mean? Well, the song of the siren (as it is called) holds the ability to enchant, seduce, hypnotize, mind control, etc. When using this piece, when you speak, you will speak with the song of the siren. This means you will be able to enchant people into doing the things you want them to do. This also means you will be able to seduce a lover for yourself if that is what you really want to do. This piece allows you to control minds because once a siren tells you to do something there is no quitting until the job is complete. This is how they were able to sing and enchant men to their island for sexual reasons and then lead them to their demise.

Sorry gents, this piece not for you. This piece is for the ladies only and that is because if you want to be heard with the song of the siren, you must be wearing both of these earrings. It's how the magic works. They are female earrings, but I guess if the men want to wear them they really could? Either way, this piece gives you the abilities that I've mentioned above and beyond that is the ability of astral orgasms. This will allow you to please and be equally pleased because Themidora lends you her sexual ability and prowess when using this piece. I've tested this piece. Trust me-- the orgasms are amazing!