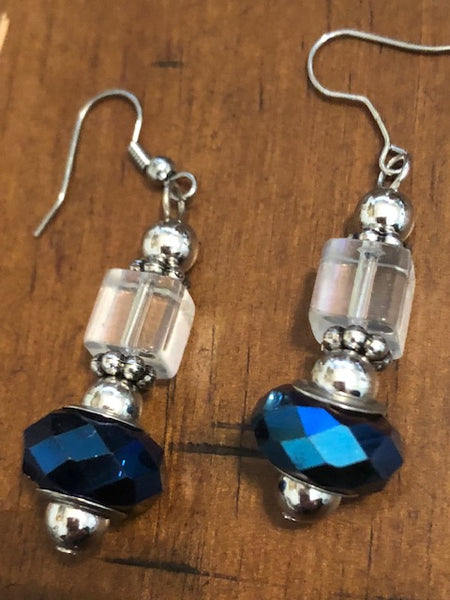 Spirit Cubes
PLEASE BE SURE TO VIEW OUR UPDATED SHIPPING POLICY. IF YOU CHOOSE NOT TO, WE ARE NOT RESPONSIBLE FOR ANY RESULTING DIFFICULTIES OR INCONVENIENCES.

https://youtu.be/y8uA4M7ijVk
These pieces are very, very simple to use.  They are earrings, but if you're not so much into wearing earrings, you can use them like a normal meditation piece.  The blue part of the earrings contains a magic that allows you to meditate on a particular face.  It has to be somebody who is dead.  It could be a celebrity.  It could be a deceased loved one.  It could be somebody very powerful that you want to conjure such as Marie Laveau or Vladimir Tepes.  
Basically, you will either wear these earrings or hold them in your hand while meditating.  You envision one face at a time for 15 minutes, one spirit per earrings.  You can choose any two spirits.  The magic in the blue part of the earring will summon and trap that spirit in the clear part of the earring called the spirit cube. 
From this point forward, you will be able to use these earrings either by wearing them or cupping them in your hand.  You will be able to communicate with the spirits you have chosen, but this communication will come in the form of a telepathic connection.  You will either hear their voice, see images, receive dreams something of that nature.  You can use this to communicate about anything and since you hold full control of the magic, you will definitely get an answer.
The best part?  This is not a once and done item.  As soon as you are done with the spirits you have, you may release them back into the spirit realms, as if you were catching fireflies.  Simply repeat the process over with another spirit.  There is one stipulation.  You will have to keep this piece on your person or wear them, for a total of 72 hours before you begin bonding with your spirit.  Other than that you're good to go.