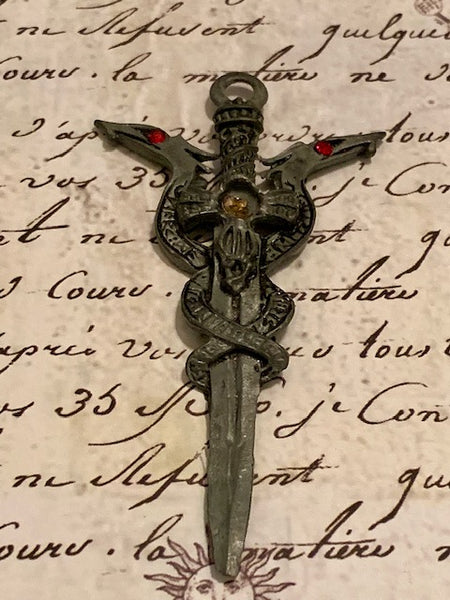 St Michael's Sword
SOME OF THE ITEMS THAT WE SELL ARE MISSING STONES, HAVE SCRATCHES, ETC. THIS ISN'T EVERY PIECE. IN FACT, IT IS VERY FEW PIECES. IF THIS IS THE CASE IT IS BECAUSE WE GOT THEM THAT WAY, BECAUSE THEY ARE OLD, OR BECAUSE THEY HAVE A LITTLE BIT OF WEAR DUE TO TESTING. WE HAVE TO HANDLE AND TEST ALL THE PIECES THAT WE SELL TO MAKE SURE THAT THEY WORK PROPERLY AS PER THE DESCRIPTION. MANY OF THE ITEMS WE OFFER ARE VERY OLD, ARE ANTIQUE, ETC. SOME OF THE ITEMS REFLECT THAT WEAR. THIS DOES NOT MEAN THAT YOUR ITEM IS LESS POWERFUL OR WILL NOT WORK WHEN YOU GET IT MAILED TO YOU. THESE PIECES ARE FEW AND FAR BETWEEN ANYWAY. WE JUST WANTED ALL BUYERS TO BE AWARE OF THIS BEFORE THEY PURCHASE.

Also, Before making a purchase, please make sure you read and are familiar with our shipping policy: https://youtu.be/y8uA4M7ijVk

This is a super powerful white light piece. It has been taken to Heaven where it has been touched by the hand of the archangel Michael. Through this divin touch, the piece holds his residual energies. With these energies when you wear this piece your life will be cleared of any and all dark forces in your life. This could mean the ridding of demons, the vanquishing of negative energies and spirits, bad karma, a dirty aura, anything that has to do with your spiritual well being. In addition to these healing and protective powers, this piece helps you overcome obstacles. It holds the magic of Michael's sword, which holds an energy that will fight for you on all fronts, removing obstacles that stand in your way to getting what you truly want. This could be wealth, a new job, a house, a lover, or whatever. If there is an obstacle in your life that you just can't beat, this piece will beat it for you.