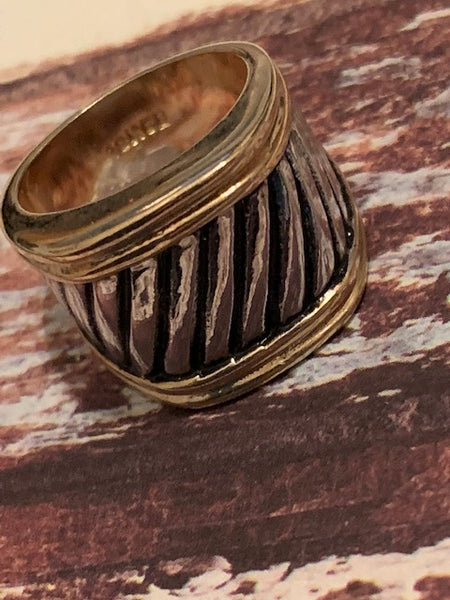 Taman Shud
SOME OF THE ITEMS THAT WE SELL ARE MISSING STONES, HAVE SCRATCHES, ETC. THIS ISN'T EVERY PIECE. IN FACT, IT IS VERY FEW PIECES. IF THIS IS THE CASE IT IS BECAUSE WE GOT THEM THAT WAY, BECAUSE THEY ARE OLD, OR BECAUSE THEY HAVE A LITTLE BIT OF WEAR DUE TO TESTING. WE HAVE TO HANDLE AND TEST ALL THE PIECES THAT WE SELL TO MAKE SURE THAT THEY WORK PROPERLY AS PER THE DESCRIPTION. MANY OF THE ITEMS WE OFFER ARE VERY OLD, ARE ANTIQUE, ETC. SOME OF THE ITEMS REFLECT THAT WEAR. THIS DOES NOT MEAN THAT YOUR ITEM IS LESS POWERFUL OR WILL NOT WORK WHEN YOU GET IT MAILED TO YOU. THESE PIECES ARE FEW AND FAR BETWEEN ANYWAY. WE JUST WANTED ALL BUYERS TO BE AWARE OF THIS BEFORE THEY PURCHASE.

Also, Before making a purchase, please make sure you read and are familiar with our shipping policy: https://youtu.be/y8uA4M7ijVk

This is a piece that was found on the crime scene when police investigated the "Taman Shud" case. The Taman Shud case has been called one of Australia's most curious cases. On December 1,1948 a man washed up on the shores of Somerton Beach, just south of Adelaide. He was found without and forms of identification and there were no tags on his clothing. There were no leads and yet the man laid dead on the shore.

After a thorough investigation, the police came across a secret pocket in the man's waistband. It read "Taman Shud." This is Persian for "the end." This didn't prove to be much more of help until people began to come forward and the piece of paper that the "Taman Shud" page to a book that was evidently once owned by the man. Officials looked through the book and found a phone number to a local nurse, who denied having anything to do with the man. The code jumble that was found in the book otherwise were not able to be translated and the case went cold.  It's a lot to tell, you can look up the whole story on google.  

The piece that was found was never reported and it has come by the wayside. This is how we ended up with this piece. Well, it was thanks to a few connections. Either way, we ended up with it, and after testing it we have been able to determine that somebody, somewhere has put an ancient Necromancer's Spell on this piece. Unfortunately, we were not able to see the book or anything else belonging to the case.

However, through working with this case, we can tell you that this ancient Necromancer's spell is one that is used for either causing death or giving life. It is what we call a reciprocal spell, where depending on how the spell is cast or how the magic in the piece is used, it can grant two things that are completely opposite from each other.

We have taken the ability to cause death out of this piece. However, we have left the reciprocal of this and this piece allows you to cause life. Well, what I mean by this is that it allows you to raise the dead in their spirit form. This can be any type of spirit or even any type of entity. It can raise the spirit of a loved one OR it could raise the presence of an entity such as a vampire or werewolf that exist in spirit form. You can use this piece to absorb and use the powers and magical abilities that they possess. Overall, this is a really powerful piece that has a number of possibilities as long as you get imaginative and conjure and bring back to life an entity with many powers that have the magical abilities that you want.