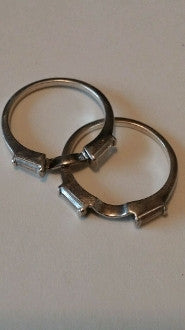 TESLA'S TREASURES, ITEM 4
FROM CARNIVAL. EVERYTHING ON CARNIVAL IS ALWAYS IN STOCK EVEN IF IT SAYS OUT OF STOCK. WE HAVE MANY OF EACH ITEM! IT MAY NOT BE THE SAME ITEM YOU SEE IN THE PICTURE BUT ALL ITEMS WILL DO THE SAME AS WHAT IS STATED IN THE DESCRIPTION!


Nikola Tesla is finally beginning to attract real attention and encourage serious debate nearly 70 years after his death.  Was he for real? A crackpot? Part of an early experiment in corporate-government control?
We know that he was undoubtedly persecuted by the energy power brokers of his day — namely Thomas Edison, whom we are taught in school to revere as a genius.  He was also attacked by J.P. Morgan and other "captains of industry." Upon Tesla's death on January 7th, 1943, the U.S. government moved into his lab and apartment confiscating all of his scientific research, some of which has been released by the FBI through the Freedom of Information Act.
Besides his persecution by corporate-government interests (which is practically a certification of authenticity), there is at least one solid indication of Nikola Tesla's integrity — he tore up a contract with Westinghouse that was worth billions in order to save the company from paying him his huge royalty payments.
But, let's take a look at what Nikola Tesla — a man who died broke and alone — has actually given to the world.  For better or worse, with credit or without, he changed the face of the planet in ways that perhaps no man ever has.

Telsa first signaled Radio!! Guglielmo Marconi was initially credited, and most believe him to be the inventor of radio to this day. 
However, the Supreme Court overturned Marconi's patent in 1943, when it was proven that Tesla invented the radio years previous to Marconi.  Radio signals are just another frequency that needs a transmitter and receiver, which Tesla also demonstrated in 1893 during a presentation before The National Electric Light Association.
 In 1897 Tesla applied for two patents  US 645576, and US 649621. In 1904, however, The U.S. Patent Office reversed its decision, awarding Marconi a patent for the invention of radio, possibly influenced by Marconi's financial backers in the States, who included Thomas Edison and Andrew Carnegie. This also allowed the U.S. government (among others) to avoid having to pay the royalties that were being claimed by Tesla.
** Radio frequencies as we know them today project voices over the airwaves -- so when you are in the car and change the channel you hear an on-air personality, or singer projecting their voice. The radio frequenices align with the Universal Spectrum and so can pull through much more than what is "intended,"
Have you ever been listening to the radio and all of a sudden in mid song things sound strange, or they "lost" signal? This is the span of frequencies pulling in conversations of spirits.
This piece is equipped with the ability to take the first epic proportions of how radio waves were tested, and thus was through the channels of the Universal spectrum -- pulling in converstaions of spirits.
You will be able to tune in to the channels of the conversations of spirits, somet 99 % of humans never are able to access -- this is a very powerful piece that will grant you much information about the world from another vantage point, the beyond!
BASICALLY, THIS PIECE WILL ALLOW YOU TO CONVERT ALL OF THE WHITE NOISE THAT YOU HEAR ON THE RADIO, INTO THE COMMUNICATION WAVES THAT THEY ARE, FROM WORLDS AND REALM APART FROM OUR OWN.  THIS ISN'T LIKE OTHER PIECES, IN THAT IT'S NOT NECESSARILY A COMMUNICATION AS MUCH AS IT IS A PIECE THAT WILL AROUND YOU HEAR THE VOICES OF OTHE REALMS THROUGH WHITE NOISE.  THROUGH THESE VOICES YOU WILL OBTAIN SECRET MESSAGES, POWERS, AND ENERGIES THAT WILL INEVITABLY LEAD TO THE DEVELOPMENT OF NEW ABILITIES THAT YOU CAN USE IN YOUR LIFE FOR MANY THINGS.
SHIPPING IS FREE.  WHEN ORDERING MORE THAN ONE ITEM, INFORM ME SO YOU CAN BE REFUNDED FOR YOU EXTRA SHIPPING.


BOX-B-14