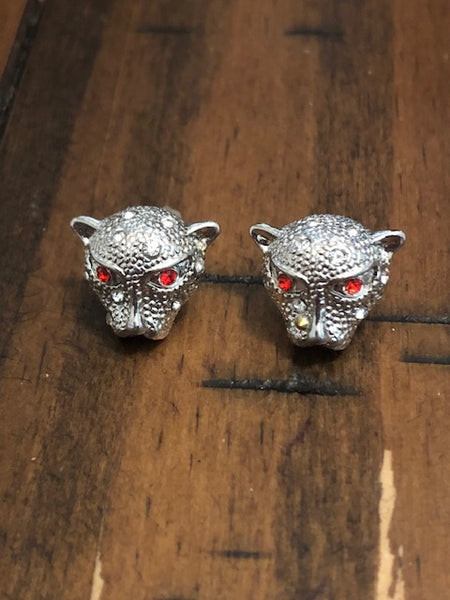 Tezcatlipoca: Mind of the Jaguar
PLEASE BE SURE TO VIEW OUR UPDATED SHIPPING POLICY. IF YOU CHOOSE NOT TO, WE ARE NOT RESPONSIBLE FOR ANY RESULTING DIFFICULTIES OR INCONVENIENCES.

https://youtu.be/y8uA4M7ijVk
This piece summons power from a clandestine temple that was discovered in Central America.  Not many people know about this temple called the Hidden Temple of Jaguar and it is not to be confused with the Great Temple of the Jaguar.  They are two different locations.  The Hidden Temple of the Jaguar is one where the ancient Aztec villager would go to have sacrificial rituals in order to please the Jaguar God Tezcatlipoca.  In exchange, the Jaguar God would bless the Aztec with his many ancient powers.
Fast forward to today and these earrings take the place of that sacrifice.  They have traveled to the Hidden Temple of Tezcatlipoca.  They have absorbed both the blood and soul energies of the Jaguar God.  As a result, you will gain the two most resounding powers of the Jaguar God:  sorcery and wealth. 
When you put these earrings on, there will be a spark of connection that will enliven your 3rd Eye.  As such, you will receive what is called the Mind of Jaguar, which is Tezcatlipoca's ability to source any kind of magic he wants from the energies of the universe.  You don't need to worry about what to do, because when the time comes, the Jaguar God will guide you along your journey to power creation.  You will simply know what to do and when to do it.  
Additionally, this piece will attract wealth to your life.  This is wealth in many different forms that will affect many different areas of your life.  The Jaguar God loved to live in luxury and had a voracious appetite for gold, so the wealth that will be introduced to your life will be nothing short of amazing.  
This power comes in the form of a set of earrings.  You can either wear them in your ears or keep them in your pocket for the power to take full effect.  There is no activation required.