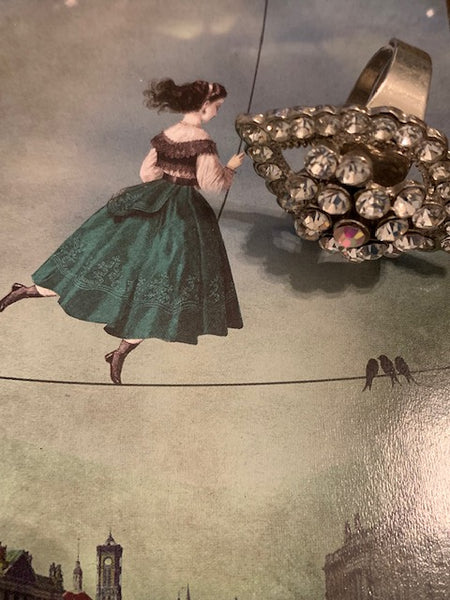 The Death Whisperer
To all buyers, new and old, please make sure that you are fully aware of our shipping policy. I would say "new" shipping policy, but this has been in full effect for months now. If you are unfamiliar with our shipping policy, please take a moment to familiarize yourself with it. Here is a link: https://youtu.be/y8uA4M7ijVk

Today I will be offering all costume pieces. These ones have been done differently, because we have created an energy to put into them that will allow the powers that we have put into them to be placed into a different piece, using a charging box. We did this for two reasons-- 1.) If you don't feel like wearing costume and you'd rather have this power in sterling or gold, you can create it. 2.) To make them more affordable. Remember, the 2018 Christmas sale ends in 6 days-- use code "xmas18" at checkout for 50% off this item until 01/01/19.

This piece holds a very powerful psychic awakening. The piece is shaped like an eye and that is because of the awakening that this piece will give your third eye. This piece brings in an enormous collection of psychic abilities-- just about any psychic ability that you can imagine. It gives you the ability of psychic touch, healing touch, the ability to communicate telepathically with spirits and entities, the ability to control minds, the ability to read minds, the ability to see and create others' dreams, the ability astral travel, the ability to communicate with animals, pyromancy, and the list goes on and on. This piece brings you an especially powerful ability, as well. It is one that is not often included when we say "psychic awakening" because it is more of a necromantic power. This piece will allow you to accurately predict the death of a person's whose hand you are touching. You will be able to see how they will die, where they will die, time of day, and in some instances down to the day and hour. It is a very peculiar ability and it's very rare. It is yours for the taking.