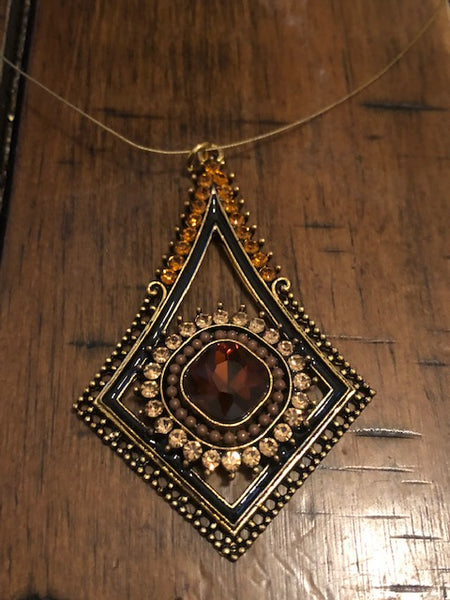 The Enchantress
PLEASE BE SURE TO VIEW OUR UPDATED SHIPPING POLICY. IF YOU CHOOSE NOT TO, WE ARE NOT RESPONSIBLE FOR ANY RESULTING DIFFICULTIES OR INCONVENIENCES.

https://youtu.be/y8uA4M7ijVk
This piece is called The Enchantress and was made during a royal blood ritual ceremony.  It holds an actual drop of Lilith's own blood.  How they got their hands on that is as good a guess as anyone's, but we have tested this piece numerous times and that is definitely what it holds.  
This piece can be worn by either males or females, but to be honest, unless you only want to use this piece to encounter sex with Lilith, then this piece is probably more suited and geared towards females.  
When you wear this piece you get the enchanting, seductive powers of Lilith.  The Royals would use this magic during their sex rituals and wealth orgies.  Some of those women are old hags, but they could still lure young and handsome men when wearing this piece.  It's because this piece holds an incredible energy that will give off spiritual pheromones.  Once you lock your sight on somebody that you want the magic to work on, these pheromones will fill the mind of that person and will make you their drug of choice.  They seriously won't be able to get enough.  
Once you have them back in your bedroom, you will be able to perform mindblowing sex on them and they will return the favor.  Astral orgasms are the name of the game and this piece is not short on delivering them.  Lilith loves orgasms and she will feel every single one of them through the vibrations of magic that course through your body when wearing this piece.  
Conversely, you can use this piece to call upon Lilith who will come and give you astral sex herself.  She doesn't care if you're a man or a woman, young or old, black or white.  She just wants sex and will stop at nothing to get it.