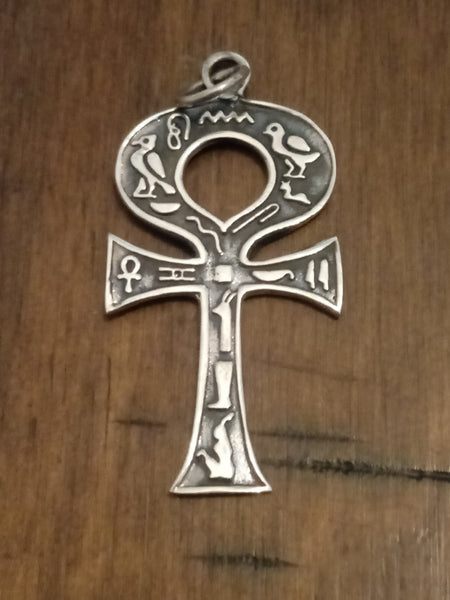 The Eternal Ankh
Just so it is known, Deedee and Lindy are gone on an investigation. They will be back on 7/22/18. Shipping will resume when Lindy, our shipper, returns. Any orders that are placed between now and then will not be shipped until after she returns AND the orders that were placed while she was away will be fulfilled in the order in which they were received.
This piece was created during the testing of that super powerful looking glass that we listed for sale earlier. When using the looking glass, we summoned the goddess Isis, who is the goddess who holds all Egyptian magic in the palm of her hand.  When we were using the looking glass we called upon her name and she showed herself to us.  I was the one that was holding the looking glass in my hand.  I could feel the jade handle begin to feel very warm in the palm of my hand.  
As we called upon Isis and she showed herself to us, my brain was seized by Isis and a burst of knowledge flooded my brain.  I saw a burst of millions of memories.  Everything from the building of pyramids to the crowning of Pharaohs, to the Seven Deadly Plagues of Moses.   I saw happy times and magic.  I saw not so happy time and times of despair.  Every memory that was every had and every emotion that was every felt came flooding into me.  I felt everything-- love, sadness, despair, greatness, power, optimism, bravery, fear.  I literally felt every emotion at once.  
All this was necessary so that way I would be given all of Egyptian knowledge and magic.  If I know everything that Isis has ever seen, then I would know every single magic that was ever created in her name.  Since she is the goddess of magic, all magic was created in her name.  Ergo, I was given the knowledge of ALL Egyptian magic.  From the secrets of the pyramids and their star chambers to the eyes of the Sphinx that can see into Heaven, from the powerful staffs of the Pharaohs who which can channel the powers of the gods, to the magic that has been hidden in the pharaohs tombs for millennia.  
When I came out of my trance, I was holding this Ankh in my hand.  This sterling silver pendant is pure magic.  It is the Everlasting Ankh.   A spell has been written on the ankh.  When you wear it, you will be able to meet Isis, in the same way that I have.  You will experience the flooding of magic in your mind, where you will be given a knowledge of all things Egyptian.  You will know the answers to all the mysteries of ancient Egypt.  You will be given a full knowledge of the pantheon of Egyptian gods.  You will be given a knowledge of the constellation Orion and why it's so important to the placement of the pyramids, along with the secrets of the Star Chambers.  You'll be given a knowledge of all Egyptian magic that you can use to create your own magic and magical powers.  As far as Egyptian goes-- this piece does it all!!