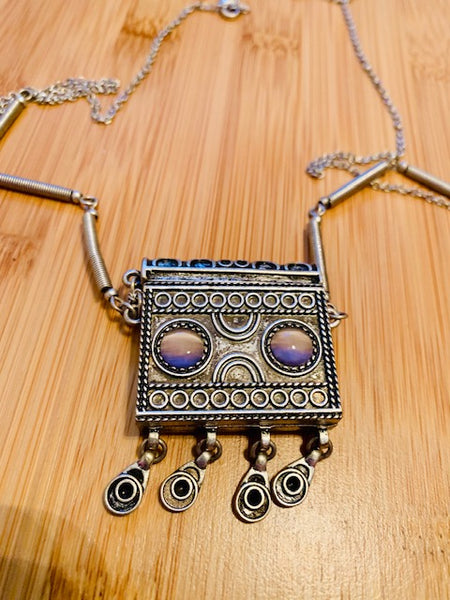 The Glastonbury Nephilim-- Half the Mind of an Angel
The Glastonbury Giant was undoubtedly the bones of a Nephilim.  His skeleton is 9 feet tall and there is no earthly explanation for this.  Scientists and archaeologists alike have tried to piece together the missing clues, but everything they come up with to explain the phenomenon falls short.  This is because, until the utter the worlds Nephilim from their lips, they are going to be wrong.  I know this because we have received this piece.  It contains ground up bits of bone that were found by the Nephilim.  They are still his, but the main body didn't have to be compromised in order to make this piece, which is further proof that the skeleton is a Nephilim and not a very tall person.  
When you use this piece it summons the presence of a Nephilim to you.  Like all Nephilim, he is half man, half angel, with the power to conjure the white light energies of Heaven.  He will do the same for you.  When you wear this piece you will undergo a mini-transformation that will give you half the mind of an angel.  This means that while you are wearing this piece you will be able to summon the white light powers of Heaven, including the ability to call upon the angels, the ability to call upon the saints, and the ability to see into the realm of Heaven and to look upon the throne of God, but never his face.  This is an amazing experience for the one lucky person ends up with this piece.  I tested this piece personally and was amazed at the results.  
This necklace opens up so you can place small pieces inside of it.