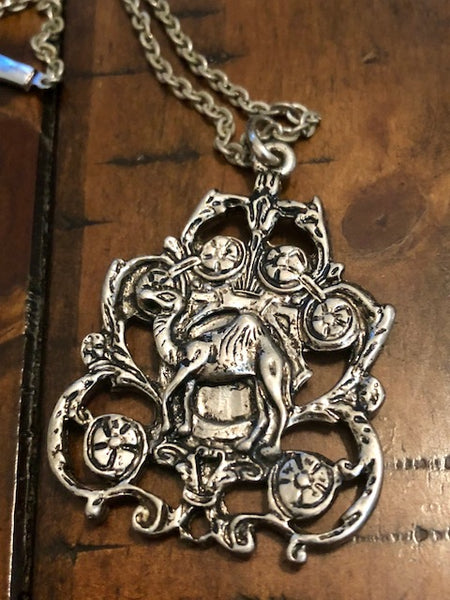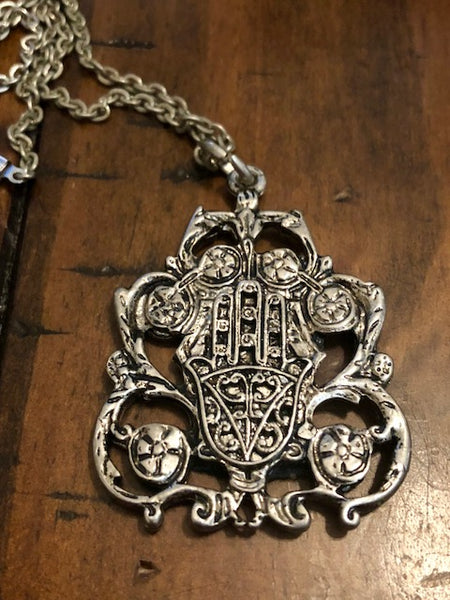 The Hand of Metamorphosis
This piece holds a camel and the Hand of God, which is also called the Hama.  It is symbolic of the magic that has gone into its creation.  This piece was hand-crafted by a Hindi mage who has studied the art of the ancient Hindi mages and seers.  He has used this pendant of power as a receptacle into which he could place this power.  On one side you will notice a camel, which is symbolic of your current state of being.  You are an animal who is used by other other people to travel in barren lands.  You have walked what seems to be a million miles in nothing but arid, dry sand.  You are waiting and waiting for your chance to one day experience a land that will be lush with magic.  The camel is also the transporter that will get you through the arid spell into your next phase of existence.  
The other side of this piece the hamsa which is going to provide you with your metaphysical ascendence metamorphosis.  When you wear this piece, the energies that have been placed into it will give open up your third eye and allow you to gain the magic and understanding of the ancient mages.  This is a full connection to the cosmic life force whereby you will be given not only a psychic awakening, but also a deep-rooted connection to the cosmological forces that will allow you recognize, experience, and utilize the freestanding forms of magic that exist throughout the universe.