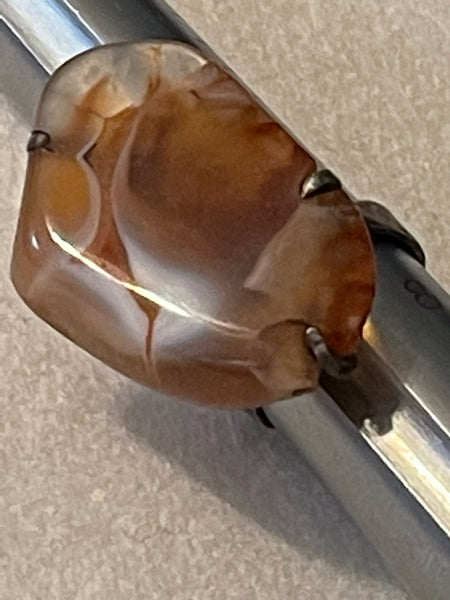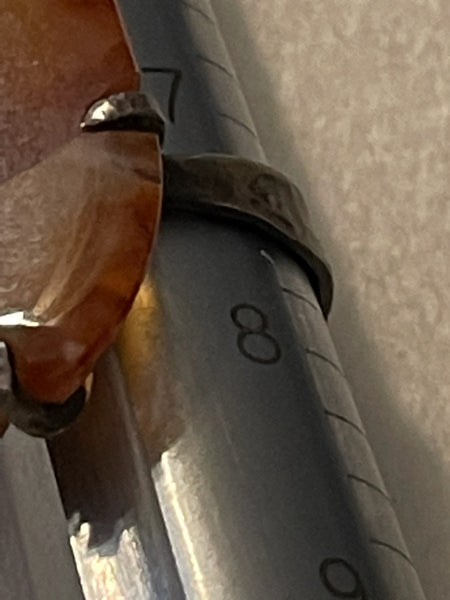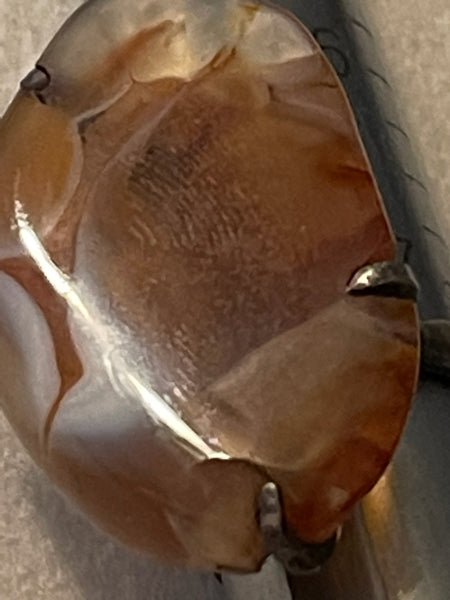 The Keeper of Words
4-7-21

We now take several forms of payment. You can pay with your credit card through PayPal. You can also send money via PayPal to kissmecrazie@gmail.com or ask for an invoice to be sent. We also take CashApp and Venmo. When using these forms of payment you will ask for an invoice and one will be sent. We also take Zelle, which is through your bank and your bank sets the limits. when paying through Zelle you will pay using the email kissmecrazie@gmail.com. We also take cash in an envelope, but you sent it at your own risk. We are not responsible for lost or stolen cash that is sent to us that we do not receive.

--------------------------------------------------------------------------------

This piece is an amazing, unique piece. We are pretty sure that it is sterling silver, although it isn't marked so we can't be 100% on that part. The piece is handmade. We aren't sure what kind of stone this is, but it is one of the most unique stones we've seen. The pictures that we were able to take with the lighting do not do this stone any justice whatsoever. You simply have to see the piece to appreciate it, but since what you are probably really interested in is the power that has gone into this brilliant, amazing piece, let's talk about it.

Let's just normalize the fact that people who are "in charge" want to try and hide everything shard of knowledge that they can find from us "regular" people. A reported development gives the narrative that a potsherd that was found in central Israel has shed light on how alphabetic script was spread from ancient Egypt to other parts of the world. Yay... alphabetic script... said nobody ever. However, before you put your nightcap on and settle down for a nappy, let me just remind you-- letters for the basis of words and words are what forms magic.

Well, it's words and numbers really, but we'll settle for just words. Words create energies that can shift the already present energies in your environment to achieve desired outcomes. That's why incantations work. That's why spells work. That's why God says that he was with the Word in Genesis. Words have a potency that isn't quite understood by humans, which is why they are so blowhard and just say whatever comes to their minds. Mixed with magic and purpose, such as the language of God, Enochian, you can really get out of hand really quick. Lucky for us the languages that we speak don't hold as much energetic value as some.

However, that is the whole point of this piece. While researchers were at Tel Lachish finding old pottery, they also came across something else. An ancient codex containing a language that they had never seen before. Accompanying the ancient codex was a spirit called the Keeper of Words. To be honest, we were dropping in via remote viewing to see what we could spy. We saw them take the herbs to the appropriate people, but the new language system they had discovered went somewhere else. It went to some shady group of people that claimed to be able to decipher the text. However, I have my doubts. They looked kind of sheisty.

Anyway, we got somebody that we know from Israel and put them to work. Using a cloaking piece we sent him, we were able to guide him to where the piece was. Rather than steal the codex, we had him replicated it. We had him summon the presence of the Keeper of Words into this piece as well The result is a piece that is especially easy to use but is extremely powerful. The piece summons forth the presence known as the Keeper of Words. He is fluent in whatever language it is that was found in ancient Egypt. Remember, we're not talking about the alphabet they found on the Sherd. This is a whole new alphabet and it is chock full of magic. The letters themselves are as powerful as the Enochian alphabet and like Nordic Runes, the letters can be used in different patterns and arrangements to create magic.

The problem is that while the alphabet is super powerful arrangements of these words can create very powerful magic for you, the language is indecipherable to the human mind. That's where the Keeper for eh Words comes in. When you are using this piece its presence will come to you. He is an omniscient being with whom you will be able to connect. You make him aware of what you want out of the energy and knowledge of the unknown alphabet and he will speak it into existence. Why? Because he is the Keeper of the Word, that's why. It's his job. It's what he was created to do.  He can create magic.  He can alter your destiny.  He can cast spells for you.  He can literally speak just about anything into existence.