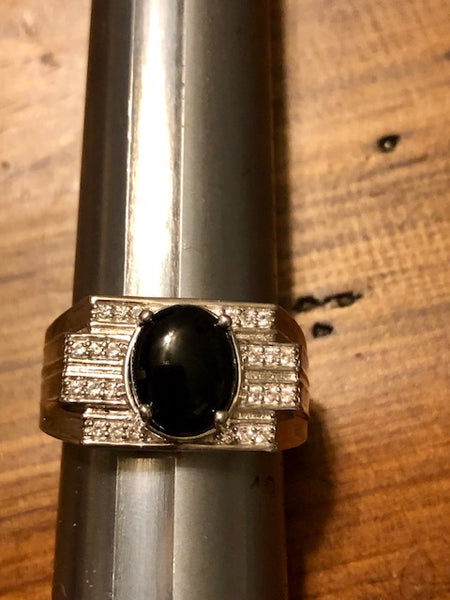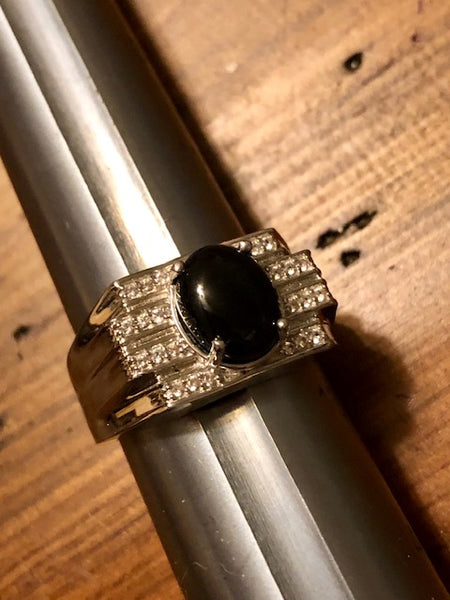 The Magical Treatise of Solomon, Ring, SZ 12, Platinum Over Sterling, Black Jade
Another extreme powerful piece, this piece was acquired during an investigation of a Freemason Temple in Connecticut.  The Temple was necessarily deserted and left for naught, but it wasn't being used when we found it, so we decided that we'd just make ourselves right at home.  Among insignia and some ratty old books, we found a collection of items that were being kept in a small oak chest.  There was a lock on the chest, but Deedee was able to crack the code simply by making a quick psychic connection to the lock.  She was able to do this because she was wearing a piece that amplified her natural-born psychic abilities.  She doesn't really like to mess with them, but this was a dire situation, so she did it. 
There were many pieces in the box, but only one that stuck out to us.  It was a must-have, so we didn't bother with the rest of the, but we took this one piece.  It has taken us a while to fully realize the maximum potential of this piece.  We've had to work with it for over two years, but we finally feel confident enough that we've awoken the powers in this piece to a point where they will definitely work for the person who makes the purchase.  We aren't sure where this piece comes from or how the Freemasons got their hands on it.  I mean, the have a lot of pull, especially in their specific locale, but this piece clearly didn't come from any place local to Connecticut.  
This piece holds a power that will embed the knowledge of a book called the Magical Treatise of Solomon.  We talk a lot about the Greater Keys of Solomon and the Lesser Keys of Solomon, but not enough about the Magical Treatise of Solomon.  It is a grimoire that was written by the king that is chock full of the magic that he practiced prior to turning back to God and white light magic.  This is not to say that all of the magic in this piece is dark.  It is intention magic, so it can be white if you want it to be and it can be dark if you want it to be.  It depends upon the intentions with which the magic is cast.  This piece will allow you to cast any spell that you want to cast.  All you have to do is think the spell in your mind and the spell will be cast.  It really is that simple.  This is because the piece holds the entire knowledge of the Treatise of Solomon.  It will also allow you to conjure forth any kind of entity-- a griffin, a djinn, a vampire, a werewolf, an angel, a demon, literally whatever kind of entity you want.  When using the piece, for this reason, you will need to meditate with the piece and concentrate on the image of the type of entity you'd like to conjure.  They will appear to you in full spiritual form.