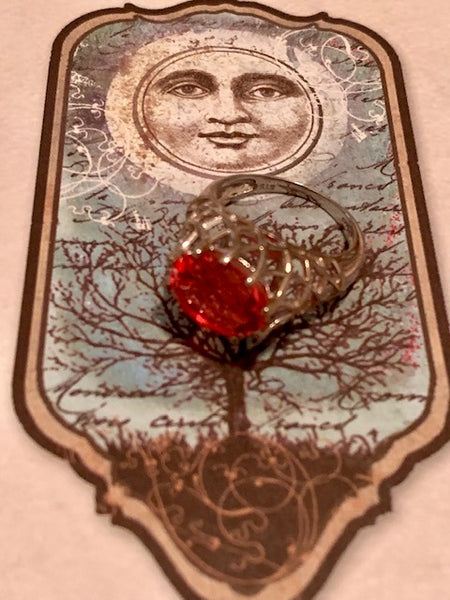 The Middle Parallel
SOME OF THE ITEMS THAT WE SELL ARE MISSING STONES, HAVE SCRATCHES, ETC. THIS ISN'T EVERY PIECE. IN FACT, IT IS VERY FEW PIECES. IF THIS IS THE CASE IT IS BECAUSE WE GOT THEM THAT WAY, BECAUSE THEY ARE OLD, OR BECAUSE THEY HAVE A LITTLE BIT OF WEAR DUE TO TESTING. WE HAVE TO HANDLE AND TEST ALL THE PIECES THAT WE SELL TO MAKE SURE THAT THEY WORK PROPERLY AS PER THE DESCRIPTION. MANY OF THE ITEMS WE OFFER ARE VERY OLD, ARE ANTIQUE, ETC. SOME OF THE ITEMS REFLECT THAT WEAR. THIS DOES NOT MEAN THAT YOUR ITEM IS LESS POWERFUL OR WILL NOT WORK WHEN YOU GET IT MAILED TO YOU. THESE PIECES ARE FEW AND FAR BETWEEN ANYWAY. WE JUST WANTED ALL BUYERS TO BE AWARE OF THIS BEFORE THEY PURCHASE.

Also, Before making a purchase, please make sure you read and are familiar with our shipping policy: https://youtu.be/y8uA4M7ijVk

There is a spot in Mexico that is called La Zona de Silencio, or the Zone of Silence. It is also called the Mapimi Silence Zone. This is an area in Mexico where time seems to stand still and radio communication goes awry, sometimes not even being possible. Interestingly enough it is also the location of a United States nuclear crash site. After meaning to detonate the nuclear devices in a separate dessert it was in the desert no know as the Mapimi silent zone where the nuclear bomb ended up crashing. I'm not sure if that contributes to the anomaly in the area or not, but one thing I can tell you is that the silent zone doesn't feel right. I have been there myself, on an investigation, and the stillness and stiffness of the place just don't seem right.

It is important to note that the desert was not always a desert. It was once a sea that has since dried up, which is why some researchers refer to this place as the Sea of Thetys. It's also important to note that just as the Bermuda Triangle, the Sea of Thetys can be found between the 26th and 28th parallel. These similarities are what prompted me to go on an investigation in the first place. I wasn't sure what I was going to find there, but after hiring a local I was taken dead into the center of the Zone of Silence. My watch stopped working, I couldn't call out on my cell phone and the guide that hired could not receive or make communication on his radio transmitter device. It was one of the strangest things that I have ever encountered. It's like everything stopped working in this one spot In this particular spot I was able to make a psychic connection to the energies of the area, which is surprising because that is usually Deedee's role in things. However, while silent, this place is screaming with energies.

Using my psychic senses and the energies of what I am calling the Middle Parallel, I was able to determine that in the spot called the Zone of Silences exists a re-entry point into Earth. This explains why radios wouldn't work and why clocks stop working. At re-entry points, time does stand still. These are the spots on Earth when Earth and other realms meet and entities are able to cross over. It is a point where multiple realms intersect through each other and then branch out into their own plane of reality. The Bermuda Triangle is the same thing. The Vortex at Cassadega was also the same thing. There are spots like this all over the world, the one in Mexico just happens to be extra strong. The supernatural activity at these types of places is off the charts, so despite the feeling of stillness or thick air that you will experience when first being there, the place is energetic, because there are constantly different types of very powerful entities traveling through. The reason it feels so stiff and rigid is that time is still and it has to be when transitioning from one realm of existence to another.

Now you might be asking what kind of piece I was able to create while visiting the Zone of Silence. IT is this sterling silver piece that holds the energies of the Zone of Silence. This allows you to recreate the re-entry point. Well, it isn't the entire thing, it is a much smaller version, but it is one that will work very well. When using this piece you are effectively able to open up a portal through which you can pull through the types of entities that you want. Vampires, werewolves, spirits, fairies, elves, leprechauns, brownies, witches, sorcerers, druids, djinn, warlocks, dragons, and many other types of entities have used re-entry points as their means of travel, specifically the one in Mexico. Your piece holds the energies of this re-entry point and so will allow you the ability to pull through whatever type of entity you choose because the residual energies of these entities are present. They will attract the same type of entities. You will be able to keep these entities attached to this piece so that you can access the magic that they have to offer.

Aside from collecting your own entities to be able to use their powers whenever you choose to, this piece also allows you to astral travel to any point along the space-time continuum that you want. The Space-Time Continuum is the belt of consciousness upon which all things past, present, and future exist simultaneously. You can visit any place at any time you want to visit it. This is pretty epic in and of itself. Coupled with the fact you will get to conjure literally ANY entity to gain their magic makes for a win-win scenario that you are not going to want to miss out on!