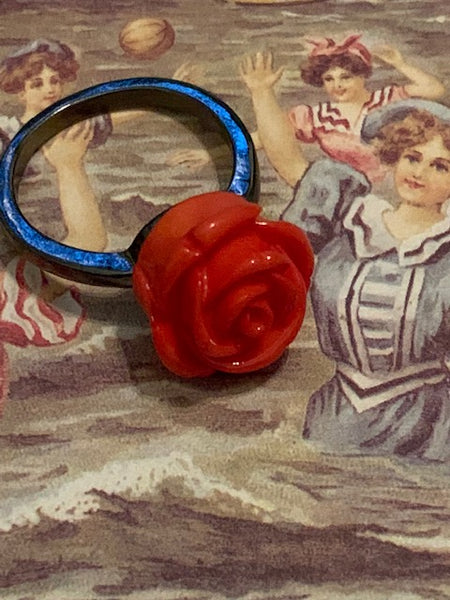 The Most Radiant Rose in the Garden
SOME OF THE ITEMS THAT WE SELL ARE MISSING STONES, HAVE SCRATCHES, ETC. THIS ISN'T EVERY PIECE. IN FACT, IT IS VERY FEW PIECES. IF THIS IS THE CASE IT IS BECAUSE WE GOT THEM THAT WAY, BECAUSE THEY ARE OLD, OR BECAUSE THEY HAVE A LITTLE BIT OF WEAR DUE TO TESTING. WE HAVE TO HANDLE AND TEST ALL THE PIECES THAT WE SELL TO MAKE SURE THAT THEY WORK PROPERLY AS PER THE DESCRIPTION. MANY OF THE ITEMS WE OFFER ARE VERY OLD, ARE ANTIQUE, ETC. SOME OF THE ITEMS REFLECT THAT WEAR. THIS DOES NOT MEAN THAT YOUR ITEM IS LESS POWERFUL OR WILL NOT WORK WHEN YOU GET IT MAILED TO YOU. THESE PIECES ARE FEW AND FAR BETWEEN ANYWAY. WE JUST WANTED ALL BUYERS TO BE AWARE OF THIS BEFORE THEY PURCHASE.

Also, Before making a purchase, please make sure you read and are familiar with our shipping policy: https://youtu.be/y8uA4M7ijVk

This is sheer beauty magic. If you are feeling ugly or not worth it, this piece will doctor you right up. Not only will this piece give you a pick me up, but it will also allow your hair to appear fuller and bouncier, your eyes will appear brighter, worry lines and wrinkles will diminish, heck, you'll even smell better to others. You will appear more radiant and beautiful and alluring.

Not only will it make you appear more beautiful, but this piece will make you feel more beautiful, as well. If you have bad self-esteem or you think that you are ugly, this piece will help you overcome those obstacles to KNOW and BELIEVE that you are beautiful and that you are worth it!