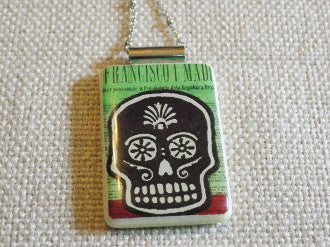 The Voodoo Sou Within
FROM CARNIVAL. EVERYTHING ON CARNIVAL IS ALWAYS IN STOCK EVEN IF IT SAYS OUT OF STOCK. WE HAVE MANY OF EACH ITEM! IT MAY NOT BE THE SAME ITEM YOU SEE IN THE PICTURE BUT ALL ITEMS WILL DO THE SAME AS WHAT IS STATED IN THE DESCRIPTION!


We don't know exactly how this piece became the way it is.  All we know is that we found it on an investigation.  The investigation took place at a residence, the whereabouts of which were requested to remain private.  What I can tell you is that it comes from a very old town called Mahanoy City.  I'm not even sure why this place is called a city.  There is really nothing there.  It is a town that is situated in between two mountain ridges.  Getting there has to be intentional.  There's hardly any way that you would be able to accidentally end up there. 

Either way, there are a bunch of old buildings there, as during the boom for steel and related industries, this town was a bustling center of economic growth.  Then when the industry collapsed, this town is what was left.  We found this piece hanging in the attic rafters of a house that had complained of strange and supernatural goings-on.  We concluded that this was the piece causing all the hubbub, primarily from the fact that these people never contacted us again.  Then again, there is the ability that this piece holds, which is probably a more telling factor. 

As you can see, this piece holds the logo "joker" on one side and on the other side is a sugar skull.  I don't know if this piece is some kind of old promotional jewelry for something or other, but I can tell that who-- or what-- ever lived in this house transformed this piece entirely.  This piece now holds an ancient Voodoo souls, who once was a Voodoo Priest in the swamps of Mississippi.  Having went to live among the Loa in the spiritual realms, he has since been conjured into this piece.  This spirit will talk to you directly from the sugar skull on this necklace.  You will be able to hear its voice as clear and crisp as if someone was standing right next to you.  You can communicate with him and tell him what kind of spells you want cast and what magic you would like to possess.  He will cast those spells that you ask him to and he will search the Voodoo spiritual realms to find the powers that you ask for.  The only reason he was haunting the prior family is to get their attention, but that didn't work.  Oh well, your gain.  With this piece nothing is out of scope of possibility, not with all spells cast and all powers gained!!

6-7-16