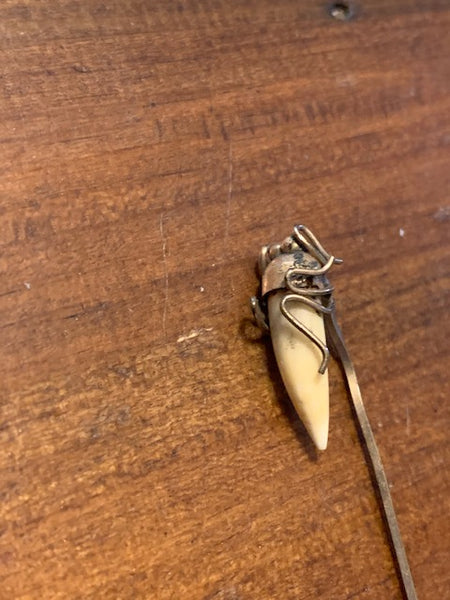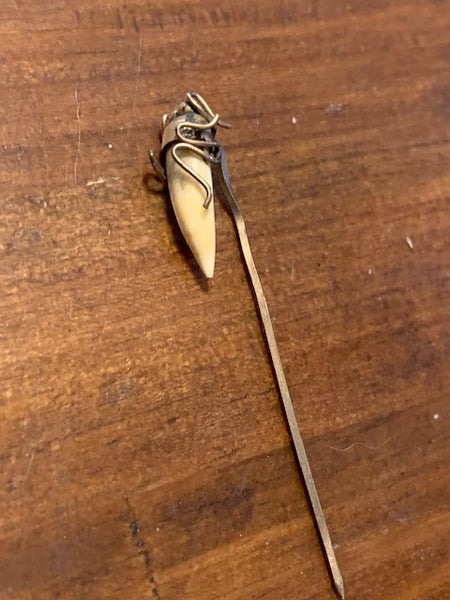 The Wolf's Tooth and Alchemy
The next couple of pieces is from a collection that we found on an investigation in New Hampshire.  New Hampshire? Yes, New Hampshire. No offense to our people from New Hampshire, but nothing interesting ever really happens there, so it's the perfect place to hide interesting things if that makes sense.  What I'm getting at is that it is the perfect place to hide things because there are plenty of wooded areas that aren't well-traversed by humankind. Such is the case of a secret Masonic society that exists in the Great North Woods.  It is eerily reminiscent of that movie "The Village" by M. Knight "what's his name" because these people totally live off the grid and nobody even knows they exist. Ironically, the inspiration for the movie "The Village" came from an actual village that was discovered in PA not far from where I live.  
Anyway, the society that exists in NH is called the Order of Antoinette.  The order dresses in French garb inspired by the times that Marie Antoinette was still ruling France.  In sync with this mentality, the leader of the order must always be female. I know, that's different for Masonic societies.  She thereby assumes responsibility for all of the tribespeople and acquires the name Antoinette of the North Woods, followed by what number she is in the succession of Antoinettes.  Each of the Antoinettes is hand-chosen by a panel of men that is designed to balance the power.  
Either way, there is a group of magic pieces that are kept by the leader of the group, ca Antoinette.  Thus, the box is called the Antoinette box. While we were investigating the group we found a series of items that we were able to secure and bring back with us.  They must have noticed they were missing because when we went back into the woods, the group was nowhere to be found. They must have migrated to somewhere else to hide their identity, but it didn't stop us from securing the pieces that we had in the first place, only from acquiring more.  
The pieces that we acquired are vintage stick pins that have been imbued with extremely powerful magic and/or abilities.  I will be listing them separately so things don't get confusing and because they are different prices, depending on the magic that they provide.  I will list this same description for each of them, but them at the bottom will be an item specific description that goes along with the pin you will be purchasing.  These are excessively powerful and each one of them has been made with Masonic magic that has been developed with something called "the Code". We aren't sure exactly what "Code" this is, only that it is some ancient code that allows you to access pretty much any form of magic that you desire.  We learned that while spying on the group during our investigation.  
THE FIRST ITEM THAT IS UP FOR GRABS IS THIS STICK PIN THAT HOLDS A REAL WEREWOLF'S TOOTH.  THIS MAGICAL RELIC BRINGS TO YOU THE POWERS AND MAGIC ASSOCIATED WITH BEING A SHAPE-SHIFTER.  THIS INCLUDES THE ABILITY TO SHAPE-SHIFT FOR YOURSELF ON THE ASTRAL PLANE. HOWEVER, IT ALSO INCLUDES AN ANCIENT TYPE OF ALCHEMY THAT ALLOWS YOU TO CREATE YOUR OWN POWERS AND ABILITIES.  IT IS ALCHEMY THAT ALLOWS THE CHANGING FROM ONE STATE TO ANOTHER, WHICH IS WHY THE ALCHEMY IS REVEALED TO YOU AT ALL. THIS ALCHEMY IS VERY POTENT AND WILL LITERALLY ALLOW YOU TO INGEST POWERS THAT WILL BECOME PART OF YOUR BODY.  TO DO THIS YOU WILL STAB A PIECE OF BREAD WITH THIS PIECE WHILE MENTALLY PROJECTING THE POWERS YOU WANT TO HAVE. YOU WILL THEN EAT THE BREAD AND THE POWER THAT HAVE ASKED FOR WILL BE CREATED AND WILL BEGIN TO BECOME PART OF YOUR BODY AS SOON AS THE BREAD HAS BEEN DIGESTED.  IF YOU WANT TO SHAPE-SHIFT WITH THE PIECE, YOU WILL MEDITATE WITH IT AND ALLOW YOUR MIND TO TRAVEL INTO THE ASTRAL PLANE WHERE YOU WILL BE ABLE TO TAKE YOUR INNER WOLF FORM.