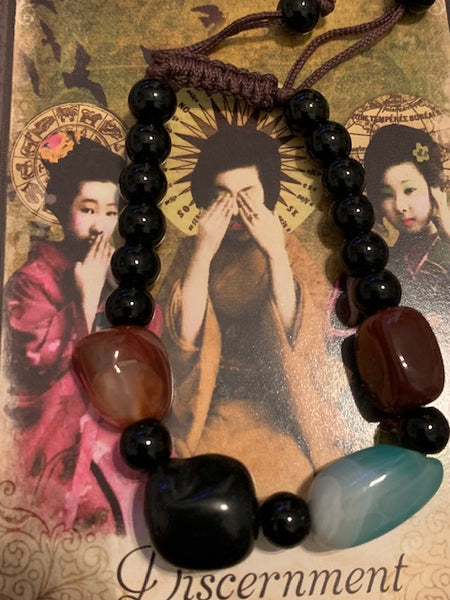 Three Oriental Lucky Ladies of Discernment and Destiny
SOME OF THE ITEMS THAT WE SELL ARE MISSING STONES, HAVE SCRATCHES, ETC. THIS ISN'T EVERY PIECE. IN FACT, IT IS VERY FEW PIECES. IF THIS IS THE CASE IT IS BECAUSE WE GOT THEM THAT WAY, BECAUSE THEY ARE OLD, OR BECAUSE THEY HAVE A LITTLE BIT OF WEAR DUE TO TESTING. WE HAVE TO HANDLE AND TEST ALL THE PIECES THAT WE SELL TO MAKE SURE THAT THEY WORK PROPERLY AS PER THE DESCRIPTION. MANY OF THE ITEMS WE OFFER ARE VERY OLD, ARE ANTIQUE, ETC. SOME OF THE ITEMS REFLECT THAT WEAR. THIS DOES NOT MEAN THAT YOUR ITEM IS LESS POWERFUL OR WILL NOT WORK WHEN YOU GET IT MAILED TO YOU. THESE PIECES ARE FEW AND FAR BETWEEN ANYWAY. WE JUST WANTED ALL BUYERS TO BE AWARE OF THIS BEFORE THEY PURCHASE.

Also, Before making a purchase, please make sure you read and are familiar with our shipping policy: https://youtu.be/y8uA4M7ijVk

The power of psychic discernment can be classified in many ways and we have often spoken about this ability in our various Youtube videos. For some, the power of discernment comes in the ability to tell if other people are good or not and the impact they will have on their life. It allows you to be able to know what type of contributions that person will make to your life before they make them. It's more than just a gut instinct, it is the psychic ability to know whether or not a person good or bad. This piece takes the power of discernment to the next level with three ancient Oriental Ladies of Luck.

The names of these three spirits are the Eye, the Ear, and the Tongue. Of course, that is an American translation, because I don't speak Mandarin and their names in that language are hard to say, so this is what their names translate to in English. No matter what you call them the three Ladies of Luck will come to you and will give you the discernment to know what is best for your life. They will bring with them the power to be able to control your own destiny through the actions that you take and also with a little from magic. Moreover, they will keep you from saying, hearing, or seeing things that will lead you astray from the magical path of destiny that they put you on. This way, your power of discernment will allow you to "live your best life" through your own actions AND by petitioning these Ladies of Luck to create a future that you want.

To tell these ladies the future that you want them to create for you, you will simply wear this piece and speak the future that you want out loud. To seal the deal, you must always end with, "Hear No Evil, See No Evil, Speak No Evil" three times. After the third time, fate will be sealed and the ladies will lead you down the path to your newly created destiny!!
The piece you are getting is all natural and genuine gemstones, which seals the powers of the lucky ladies inside.