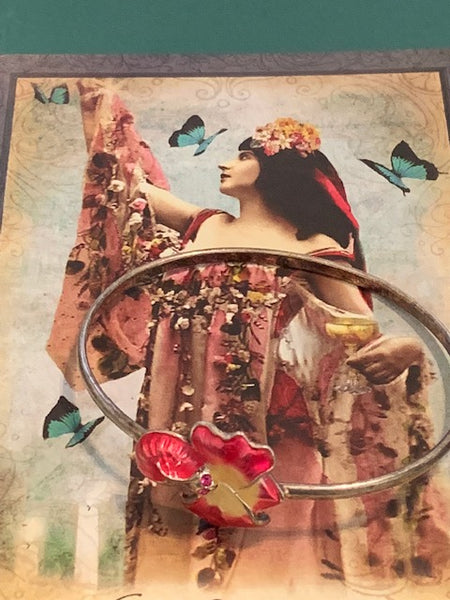 Tylweth Teg Cleansing Bracelet
Hello shoppers!!!

From January 1st, 2019 until February 15th, 2019 there will be no shipping. We are moving to a bigger office. If you have stuff on the books now it will be shipped! If you order again and have an existing order on the books Lindy will combine it into one package, possibly. If you are ordering now it will be saved for you and will be shipped when I'm back. I have the underground auction, investigations, and customers to see. During that time Lindy will be moving offices. You are free to purchase but it will not be shipped until starting the 15th of February. Under no circumstance will anything be shipped in that time. If you can't wait, don't buy. I repeat for those who will ask me to explain this if you can't wait don't buy! As I get unique items I will show them through email and ship them from where I'm at. Thank you for your understanding.

This piece is a fairy cleansing bracelet. It holds cleansing magic that holds its roots in the realm called Tylweth Teg. Tylweth Teg is the realm that the Fair Folks created specifically for themselves after humanity became greedy for power and began to exploit them for it. Under normal circumstances, human's wouldn't have been able to do this, except for the fact that they had recently discovered an unknown source of magic that gave the supremacy. This source of magic eventually became known as the sorcerer's stone.

Either way, they create Tylweth Teg. Only fairies and other races of fair folk are able to cast magic that allows them inside and outside of the realm. So, to have magic that actually originates from there means that somebody has actually had to intentionally bring the magic from this realm here. This was probably a fairy who wanted to cleanse in the human realm but knew the T.T. magic was better than human realm magic.

Either way, this piece is amazing. It provides a spiritual cleansing that will take you back to the way you existed when you were-- uninfluenced and without any spiritual maladies whatsoever. This cleans your aura, your karma, your soul, and allows for charging of all the innate abilities that you were born with. Those remain unabated during this cleanse. You will also find that using this piece opens up the sixth sense and you will gain a whole faculty of psychic sense that you will be able to use almost immediately.  It will be almost as if you have undergone a total spiritual metamorphosis and you are no longer an ugly caterpillar but a beautiful spiritual butterfly.