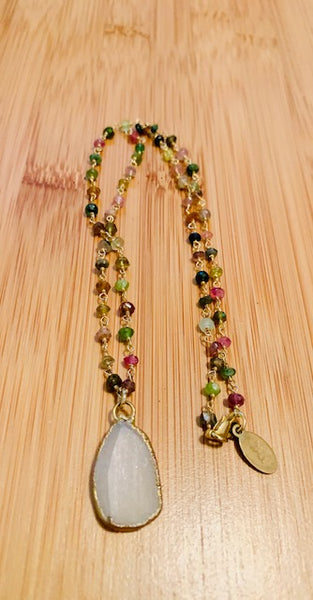 United With the Knowledge of the Universe
This piece holds the essence of the Georgia Guidestones. If you are not familiar with the Georgia Guidestones, here is a small preface. They are a group of granite pillars that together form a monument that can be found is Edelbert, Georgia. On them are inscribed a set of ten teachings-- commandments if you will-- that give humanity laws to live by if they want to succeed as a race. It has been variously described as a monument attributed to the New World Order or some sort of One World Government. In fact, the people who have written remain anonymous, but they are a covert group of mystics who have written one line in particular that stands out among the rest. It states, "Prize truth-- beauty-- love-- seeking harmony with the infinite.

This phrase has been written in such a way that gives off a resonance when repeated. If repeated enough times in a row for an extended period of time, the resonance of that phrase will give the mind an attunement that will unite them with the knowledge of the universe. This knowledge contains everything from the destiny of the world to magic that has been created in the world. This piece will grant you that resonant magic that will allow you to unite you with the knowledge of the universe and the universal mind. You will be given the ancient secrets of time as well as the knowledge of the magic that has been created on Earth. You will be able to use this magic to your advantage to create your own magic and to acquire the powers that you want and need. You will also be able to use this power for a general understanding of the universe, such as the destiny and fate of humankind. Either way, this knowledge will enlighten to you things that you have never seen before.