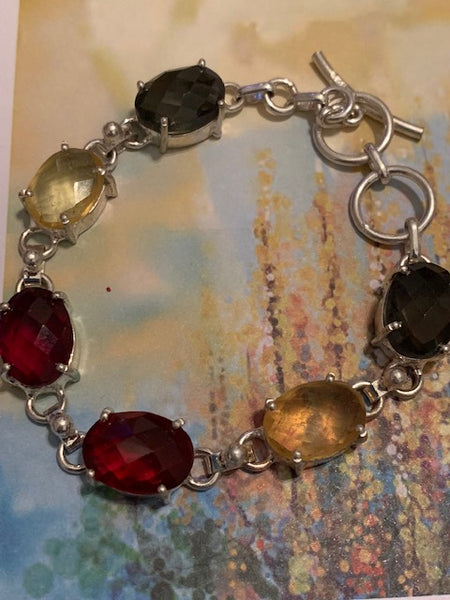 Vampire Birthing Bracelet
Hello shoppers!!!

From January 1st, 2019 until February 15th, 2019 there will be no shipping. We are moving to a bigger office. If you have stuff on the books now it will be shipped! If you order again and have an existing order on the books Lindy will combine it into one package, possibly. If you are ordering now it will be saved for you and will be shipped when I'm back. I have the underground auction, investigations, and customers to see. During that time Lindy will be moving offices. You are free to purchase but it will not be shipped until starting the 15th of February. Under no circumstance will anything be shipped in that time. If you can't wait, don't buy. I repeat for those who will ask me to explain this if you can't wait don't buy! As I get unique items I will show them through email and ship them from where I'm at. Thank you for your understanding.

There isn't a lot to say about this piece. This piece pretty much just is what it is. It comes from Bavaria and a well-known sorcerer friend that we have there. Well, let me put it to you this way-- he is well-known if you live within the circles of the paranormal and the occult. If you don't, then you probably wouldn't know him at all, which is okay, because we do and we got this piece from him.

This is a custom made piece that he made when he visited Romania to collect leftover soul fragments of the victims of Vlad the Impaler who you all know is one of the most infamous vampires in history. He collected these fragments by visiting places where battles were historically fought and collecting them through conjuration techniques. When he collected all the soul fragments he could find, he took them back with him. There was enough of Vlad's own energy intermingled with the victims' that he was able to create this piece.

This piece holds two clear stones that represent the powers of the full moon. It holds four red stones. These red stones are to birth your own vampires. These vampires will be born in spirit form and they will each hold a specific power that you will name when you birth them. As they grow, these powers will gain strength and you will be able to summon your vampires for whatever powers you chose to put into them.