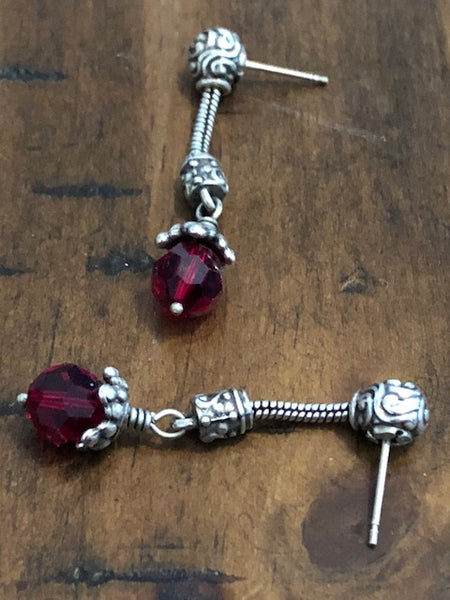 Vampire Blood Drop Earrings
These earrings are phenomenal!! I mean, they look really pretty on the ladies, but trust me, if you are a man you are also going to want to wear these. That's because they are what we call the Vampire Blood Drop Earrings. They hold ancient magic because when they were made they were made using two drops of vampire blood, one for each earring. They were made kind of like gutta-percha, except they were made with different materials.

It is a commonly known fact that vampires live among us. They could be anybody-- your kid's teachers, your neighbors, 90-year-old Ethel from the nursing home. They exist and hide everywhere. What probably isn't as well known is that when they are out in public and cannot discuss things that mortals should not be overhearing, they speak in an ultrasonic frequency that humans are not able to hear. Well, guess what? When you put on these on, you will be given the psychic ability to be able to hear them speaking. Not only that, these earring spark a partial vampire transformation. You will not undergo a complete transformation, however, you will gain certain psychic abilities that have been attributed to vampires. These include the ability to hypnotize, the ability to have mind control, the ability for astral travel, and the ability to read other people's thoughts, among others.

There is nothing that you need to do to activate these earrings, but you will have to wear them for a period of seven days before they begin to work. This is simply buffer/bonding time to give your piece the ability to saturate you with their magic.