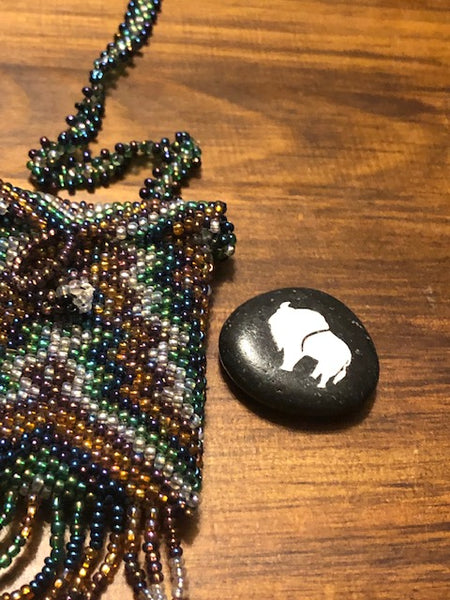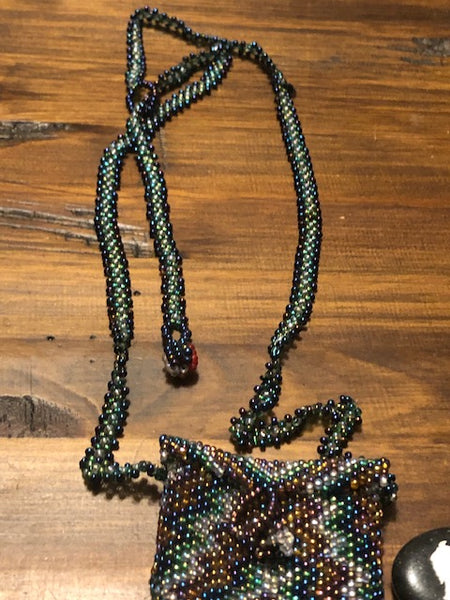 Vintage Bag, Magic Stone, Newton's Bag of Tricks
There are several things that Sir Isaac Newton will be remembered for-- his apple, his laws of motion, his laws of gravitation, his stupid hair.  What he probably will not be remembered for his interest in alchemy, specifically his desire to be able to turn base metals into gold.  Another thing he most likely won't be remembered for is his interest in all things metaphysical and supernatural.  Yes, Sir Isaac was a regular old magician with a love for the unexplainable.  His love for magic prompted him to write several secret manifestos regarding his experiences with magic.  
This piece was written in accordance with one of Isaac Newton's secret magical manifestos.  This back is magical.  It holds an alchemy spell that will allow you to gather magic and place it into the stones or jewelry items that will pace inside of it.  It is just a small bag.  An alchemy spell has been chanted over this bad 13 times, which is evidently a magical number for more reasons that we knew.  It bears significance in the reverberations and vibrations of this piece and its ability to grant you the power that it does.  
So, when using this bag you are able to place magic into empty vessels or stones.  I'm not talking about stones from the ground-- I mean like tiger eyes, quartz, jade, that sort of thing.  The energies of the bag hold ancient knowledge and magic of Newton's Manifestos.  These manifestos hold many types of magic from wealth, to love, to fertility, to psychic awakening, and many, many others.  In fact, there are more types of magic that this bag can grant for you than it can't.  Things it won't grant are immortality, death, changing the fate of the world, etc.  If you have questions as whether or not this bag can grant what you want, feel free to send an email.  
This piece comes with a strength and endurance stone as a bonus.  You can use it to increase your magical stamina.  Or, you can put this piece in the bag with the pieces you create and it will increase the potency of the piece you are creating.  
Instructions:  You will simply put an empty vessel-- stone or jewelry-- into this bad with a slip of paper on which you will have written what it is you want this bag to grant to the piece you have placed inside.  Leave it for 3 days and take it out on the 4th.  The magic will be in the piece, so all that has to be done now is bonding to the powers. 
THE PIECE YOU ARE PURCHASING IS A VINTAGE BAG THAT HAS BEEN REPURPOSES WITH NEWTON'S MAGIC.  IT IS NOW A HIGHLY METAPHYSICAL AND POWERFUL PIECE OF ALCHEMY MAGIC!