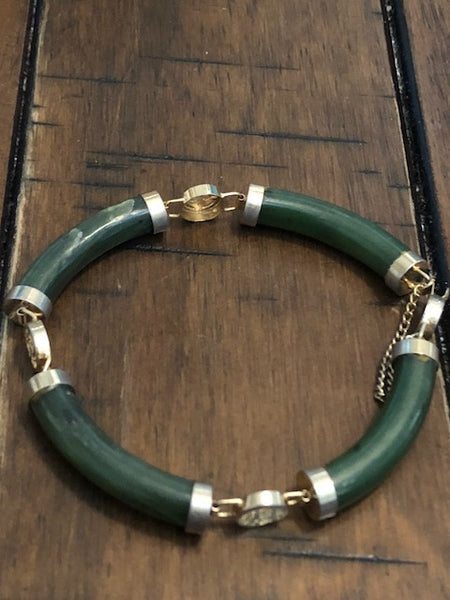 Vishnu's Secret Cellars of Wealth, solid green
I'm glad that I'm typing this one and not having to say it on one of our youtube videos because I'm not exactly the most linguistic person you've ever heard in your life. That aside, these pieces have been made with jade and sterling that was found inside of the Sree Padmanabhaswamy Temple-- which, from here on out will simply be referred to as "the Temple." Of all Hindu temples in India, this is by far the wealthiest. In fact, it has been recorded as the wealthiest of temples by the Guinness Book of World records after surpassing another temple called the Tirupati Temple when a stash of gold, silver, precious jewels, and precious stones was discovered in the secret cellars of the Temple.

The Temple is situated in the southwestern Indian state of Kerala and the principal deity that is worshipped in this temple is Vishnu. It is one of the 108 Divya Desams or the 108 holiest temples of Vishnu. So, what did Vishnu do? He did what any wealth-bearing God would do and blessed all 108 of these temple with the most divine wealth power that you will find in India. Hence the reason that the Temple had secret cellars full of hidden treasures just hanging out. The wealth power that the temple was granted by Vishnu brought this wealth to the temple and it continues to grow many years later on its own accord. Don't ask me how that works, because I don't know. All I know is that when the magic of the gods is involved when there is a will there is a way. To be honest, Vishnus divas-- his spiritual servants-- are the ones that have stockpiled the wealth. I only know this because it works the same way when you wear one of these pieces.

These pieces are a pair of jade and sterling bracelets. I'm making two separate listings for them, though because you only get one. You don't get both. When you wear the bracelet, you receive the same extreme wealth blessings of Vishnu as the temple had. This is the same wealth blessing that has allowed the Temple to become the wealthiest Temple in Indian history!! Vishnu's divas will go out into the many realms and will bring back treasures of all kinds, which will be laid into your life in many different forms-- new jobs, raises, inheritance, lottery winnings. lawsuit wins, gambling wins. and many other forms of wealth will come your way! We gave this piece to a friend of ours when we were in the casino the other night and we walked out of there with over $20k after being there just 1/2 an hour. This how prolific the powers are. If you want to become wealthy then this is definitely the piece for you.