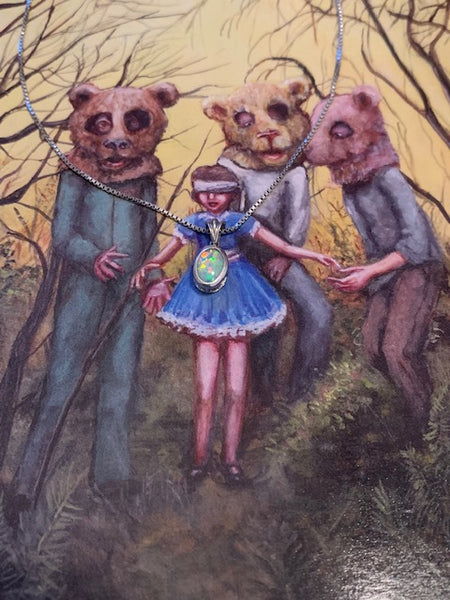 Vortex of 1,000 Souls
Before buying, please be sure that you view and are aware of our Shipping Policy-- https://youtu.be/y8uA4M7ijVk

If you are just getting into magic or even if you've been practicing it for years it can be confusing when trying to determine what kind of magic it is that you want to do. Then, you have to decide where you want your magic to be sourced from. For example, if you know you want wealth magic you would then have to choose whether you'd like a piece cast by a witch, angelic wealth, leprechaun wealth, Egyptian wealth, etc. The list just goes on and on and on. That is why we have made this piece. We realize that some people have difficulty choosing. Then, we realize that there are some people who don't want to have to choose or be restricted in what they can do. This is another reason why we have made this piece.

I can't really say that this piece has been on an investigation because I really can't refer to it as an investigation. Rather, it was more like a mission. The piece left for the mission over 3 years ago and has been traveling the globe ever since. The project with this piece is that we wanted to find a copious amount of powerful souls, that way when turning the piece over to whomever ends up buying it, they have an abundance of magic to choose from. These souls have come from all over the world and have obtained souls from burial grounds, cemeteries, soul chambers, mortuaries, and catacombs. When it was all said an done, we ended up with a total of 1,000 souls. In our opinion getting a total of one thousand souls is quite an accomplishment, given the effort, it takes to just get a single one.

When using this piece, it will literally do whatever kind of magic you want it to do, because it holds a thousand different types of souls. With that many souls, there is bound to be one that will hold the type of magic that you are looking to practice. Not only will the now this type of magic, but they will act as your personal guide through the magic. So, like I've said-- this is an extremely powerful piece. Examples of the types of souls that you will get that have been cast into this piece-- South American Shaman, Egyptian Pharaoh, Native American Chief, Vampire, Werewolf, Eternal Witch, Gypsy Ancient, Fallen Angel, Heaven Hound, Succubus, Incubus, Warlock, Druid, Celtic Sorcerer, Alchemist, Voodoo Prince, Djinn, and to be honest the list goes on and on and on. You don't have to worry. There are no names involved in this one. Just wear the piece and the powers that you want and the soul that holds these powers will emerge, because the magic in the piece can read desire.