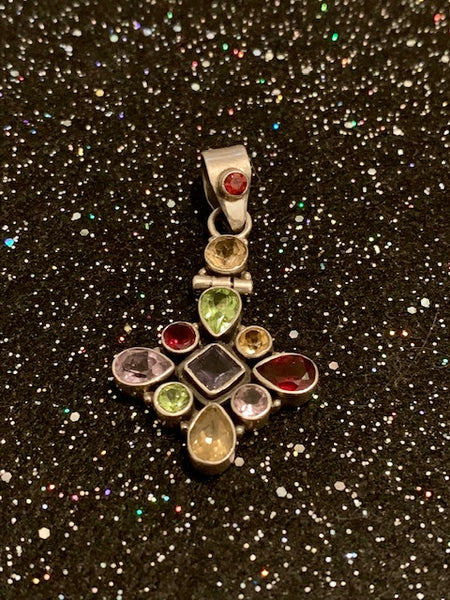 Wahtye's Key to the Hall of Gods
SOME OF THE ITEMS THAT WE SELL ARE MISSING STONES, HAVE SCRATCHES, ETC. THIS ISN'T EVERY PIECE. IN FACT, IT IS VERY FEW PIECES. IF THIS IS THE CASE IT IS BECAUSE WE GOT THEM THAT WAY, BECAUSE THEY ARE OLD, OR BECAUSE THEY HAVE A LITTLE BIT OF WEAR DUE TO TESTING. WE HAVE TO HANDLE AND TEST ALL THE PIECES THAT WE SELL TO MAKE SURE THAT THEY WORK PROPERLY AS PER THE DESCRIPTION. MANY OF THE ITEMS WE OFFER ARE VERY OLD, ARE ANTIQUE, ETC. SOME OF THE ITEMS REFLECT THAT WEAR. THIS DOES NOT MEAN THAT YOUR ITEM IS LESS POWERFUL OR WILL NOT WORK WHEN YOU GET IT MAILED TO YOU. THESE PIECES ARE FEW AND FAR BETWEEN ANYWAY. WE JUST WANTED ALL BUYERS TO BE AWARE OF THIS BEFORE THEY PURCHASE.

Also, Before making a purchase, please make sure you read and are familiar with our shipping policy: https://youtu.be/y8uA4M7ijVk

When it comes to Egyptian powers and mysteries, this piece takes the cake. There is no point in beating around the bush, so I'll just get straight to it. This piece is the result of a secret investigation that we went on three years ago. We have been sitting on it ever since because we wanted to make sure that we fully understood the piece before passing it onto whoever will be getting it. When we first walked into the powers that allowed us to create this piece, we couldn't believe what we had discovered. Of course, we had a little bit of help, but that was "normal" help from "normal" people. The magic part of this investigation was all us and it comes from a place in Egypt that had never before been discovered.

The place where the magic has come from is a 4,400-year-old tomb at the Saqqara Pyramid Complex. This particular tomb holds an exceptional amount of magic because it is that of the "Divine Inspector." The Divine Inspector was the right-hand man for the Pharaoh Neferirkare in the mid-2000s BC. He was the supreme leader of all high priests in the land and served at the beck-and-call of the Pharaoh. He was an extremely rich and powerful man, but aside from that, he helps the most magic of anyone in Egypt during his time period. He was a direct council to the gods, who walked in the Hall of Gods daily to receive their blessings and magic. For this, he held a special, magical key. He carried many relics and religious tools, but only he knew which was the key that would open up the Hall of gods. Not even the Pharaoh or the second in command to the Divine Inspector knew which key it was.

The Divine Inspector went by the name Wahtye. When he died, he was given a proper burial, including a recreation of the Hall of Gods. This hall spans the expanse of two floors and holds the likenesses of 55 gods. Even in death, Wahtye has the ability to communicate with these gods and goddesses in any way that he chooses. Of course, Wahtye has gone on to become an extremely powerful spirit, but he prefers to spend is fans in the spiritual realm and has cast a spell upon himself so that way he could not be conjured. I'm only telling the readers this because I know there will be a person who asks why haven't summoned Wahtye into this piece. When a spirit is powerful enough it can create a barrier between the spiritual and physical realm as to no be conjured.

That's okay, though, We have the next best thing. During our investigation, we were able to enter the tomb of Wahtye. We left everything the way it was because we didn't want to end up taking things that were cursed. Listen, when you deal with magic for a living, you have enough of problems staying safe on a daily basis. We weren't trying to have the curse of one of the most powerful people in Egyptian history reign down upon us. So-- we did a power extradition instead. Of what you ask? The original key that was used by Wahtye to open the doors to his Hall of Gods. The Saqqara pyramid complex, specifically the tomb of Wahtye, boasts 55 statues that serve as 55 gods and goddesses with which Wahtye has the powers to communicate thanks to the key that he keeps on him even in death.

These statues have been beautifully preserved in color and all that. It is quite the experience to be able to see these statues in person and feel the power that radiates from them. However, this piece takes it a step further. This is because the extradition spell we performed was on the key to the Hall of Gods. Thus, this piece has effectively become a "spare copy" of the key. When you get this piece it will open the door to the Hall of Gods to you. When you meditate with this piece, you will leave your body and you will be relocated to the Hall of Gods. In the Hall of Gods, you will encounter 55 living statues of God and Goddesses. These are the gods and goddesses that until this point, you have only ever read about. Amun-Ra, Seth, Anubis Osiris, Isis, Horace, and the likeness of dozens of other gods will appear to you in statue form. You will be able to ask them any question and they will give you the answer. You will be able to ask them for any power and they will give that to you as well.

This piece allows you to behold the gods and goddesses of ancient Egypt that you have only ever heard of. Their powers and abilities are the ones that have allowed the Egyptians to retain their spot as one of the most powerful civilizations to have ever existed on Earth. I wish I could say that you are going to get this power or you are going to get that power, but the fact is that only you know what powers you will ask for, so you are the only one who knows which powers will be granted for you. However, the statues are not links to the gods or connections to the gods, they are the gods who will grant the powers that you ask for directly. That is what makes this piece so powerful versus some of the others that we have. This doesn't grant you the powers of or bring about the essence of a particular God or Goddess. This piece takes you directly to the existence of 55 gods and goddesses who really have the ability to grant you any and everything that you ask for, so make sure you live it up. This is really one of the more powerful items we have listed in a long time. I mean, really... Egyptian deities? Who WOULDN'T want that? 


The piece you are getting is sterling silver with real gem stones, including genuine amethyst, alexandrite, peridot, garnet, citrine, and fire quartz.