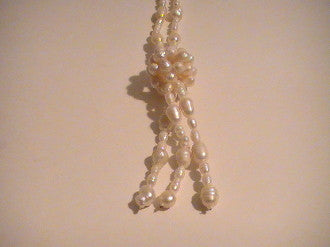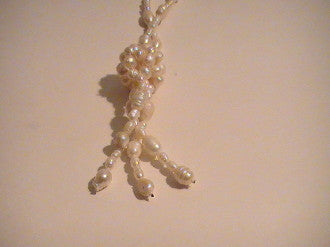 White Light of Wissahickon
EVERYTHING ON CARNIVAL IS ALWAYS IN STOCK EVEN IF IT SAYS OUT OF STOCK. WE HAVE MANY OF EACH ITEM! IT MAY NOT BE THE SAME ITEM YOU SEE IN THE PICTURE BUT ALL ITEMS WILL DO THE SAME AS WHAT IS STATED IN THE DESCRIPTION!
Sometimes you need a little white light pick-me-up to get you through your day.  That's what this piece does.  Well, okay it does more than that.  This piece comes from a modern day cave of treasures that is found just outside of the Philadelphia.  It was originally built by group of called the Monks of Wissahickon who were led by one Johannes Kelpius.  
Needless to say that his magic has remained around even to the present day.  The cave is still being used, which is how I am confident that this newer piece contains antique magic.  This magic was developed by Johannes Kelpius to be used by his devout followers to bring them into the presence of the Holy Trinity.  
This piece has three dangling strands at the bottom.  They are white light leads that reach out like tentacles to bring in the attention of all three members of the Holy Trinity-- the Father, the Son, and the Holy Ghost.  When you are in the presence of all three of these entities, you will be able to inquire any power of them and they will grant it for you.  It doesn't matter whether this is wealth, true love, or healing.  Whatever power you request of them, albeit a white light power, they will grant for you.