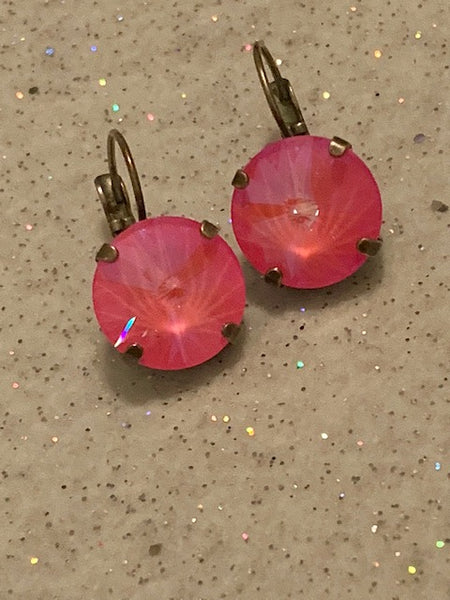 Witch's Apprentice
SOME OF THE ITEMS THAT WE SELL ARE MISSING STONES, HAVE SCRATCHES, ETC. THIS ISN'T EVERY PIECE. IN FACT, IT IS VERY FEW PIECES. IF THIS IS THE CASE IT IS BECAUSE WE GOT THEM THAT WAY, BECAUSE THEY ARE OLD, OR BECAUSE THEY HAVE A LITTLE BIT OF WEAR DUE TO TESTING. WE HAVE TO HANDLE AND TEST ALL THE PIECES THAT WE SELL TO MAKE SURE THAT THEY WORK PROPERLY AS PER THE DESCRIPTION. MANY OF THE ITEMS WE OFFER ARE VERY OLD, ARE ANTIQUE, ETC. SOME OF THE ITEMS REFLECT THAT WEAR. THIS DOES NOT MEAN THAT YOUR ITEM IS LESS POWERFUL OR WILL NOT WORK WHEN YOU GET IT MAILED TO YOU. THESE PIECES ARE FEW AND FAR BETWEEN ANYWAY. WE JUST WANTED ALL BUYERS TO BE AWARE OF THIS BEFORE THEY PURCHASE.

Also, Before making a purchase, please make sure you read and are familiar with our shipping policy: https://youtu.be/y8uA4M7ijVk

These earrings are the Witch's apprentice. If you want that to be you, then you will want to get them. They have been designed by one of the Ageless Ones. If you have been with us for a while, you will remember that the Ageless Ones are a group of immortal witches who have been around since before the Earth was even formed and ready for humanity. When the Earth was formed, they came to Earth and created their own human prototypes that they take when they are appearing to other humans. They recycle and take the form of another human body every so many years, this way their appearance and identity is constantly changing and they can keep up with the times. Either way, there are only a few of them still on Earth and they are most likely the most powerful witches to exist. If there are some that are more powerful than they are, I have not come across them yet.

So, this piece develops and sustains a telepathic and full psychic bond to one of the Ageless Ones. We do not know her name. She will give it to you once you develop your bond. Please don't email asking for her name, because we will tell you that we do not know. Yes, we have tested this piece. No, she would not give us her name. She knew what we were up to before we even started the testing process and flat out told us that we could not have her name unless one of us were intending to keep the item for ourselves. This is to preserve the sanctity of the bond between the two of you.

Through this psychic bond, the Ageless One is going to teach you all she knows about witchcraft, which is everything. She will mentally show you everything that she has been through and all that she knows. This includes a running knowledge of all spells that have ever been cast on the face of Earth. Look, I told you she was very powerful. She will give you the ability to cast these spells on your own with 100% accuracy. If you prefer she will cast spells on your behalf. Either way, whatever spells you desire most will be cast, whether you are doing it by yourself or if she is doing it for you. I would recommend learning how to cast them on your own eventually because this piece was specifically made for growth and success in spell casting. Hence, the name Witch's Apprentice. However, if you don't want to learn, or if you are feeling like you need a little backup, she will cast the spell for you. And trust me, there is nothing that she cannot cast.
This piece can be used by a male or a female, they just happen to be earrings, because that is what the Ageless one has chosen.  You don't have to use them as earrings.  You can hold them in your hand and meditate with them instead.